By Mabell, Dave on August 14, 2019.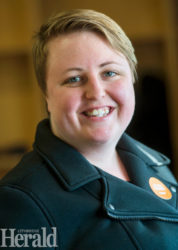 Shandi Bleiken
Dave Mabell
Lethbridge Herald
Affordable housing, Canada-wide pharmacy care and climate change will be issues raised in Lethbridge during this fall's federal election campaign.
That's the plan from Shandi Bleiken, running for the New Democratic Party.
"Everyone I talk to is concerned about the cost of prescription medication and safe housing, the climate crisis, and rhetoric against immigrants, LGBT+ people and our Indigenous neighbours," she says.
People with access to the medication they need live healthier lives, Bleiken points out.
"I have heard so many stories of people who put off filling prescription medication they need to function, because they cannot afford both medication and living expenses.
"I have heard this from young people not even in their 20s, and from those established in careers with good benefits or who are self-employed, and from seniors."
People in Lethbridge need more safe, affordable housing, Bleiken says.
"Right now someone making minimum wage needs to work 50 hours a week to afford an average apartment in Lethbridge."
And that impacts the whole community, she says, from students struggling with food insecurity to seniors. As in many nations, "The solution to homelessness and unsafe living situations will always be providing homes for the people who need them."
Climate change is a major issue for Lethbridge residents, she's learned.
"I am already receiving many emails from people in the riding, expressing the need for strong immediate climate policy. They are afraid for their children and families during smoky, increasingly hot summers."
Bleiken reports one couple expressed how afraid they are to have children, when they aren't even sure if they will get to retire – or what that retirement could look like in the midst of climate crisis.
"The people I've talked to are frustrated that rich corporations are getting away with polluting our planet while the rest of us pay for it."
Southern Alberta has the capacity to develop wind and solar energy that would not only supply our area but could be sold beyond our borders, she emphasizes.
"We can have clean-energy solutions that create good jobs, instead of a climate crisis that puts our kids at risk."
At the national level, Bleiken says she's passionate about improving Canada's immigration system.
"Through my community work and the process of my partner immigrating to Canada, I have experienced first-hand how federal policy can directly impact people's lives."
It should be accountable to Canadians and rooted in the values of fairness, respect and dignity, she believes.
"We know that immigrants strengthen our country, and I will always stand against those who would use fear of our neighbours to divide us."
As a community activist in Lethbridge, Bleiken says she's committed to implementing the United Nations declaration on Indigenous peoples, to addressing the housing and water crises experienced across the country, and to implementing the Calls for Justice set out by the Inquiry into Murdered and Missing Indigenous Women.
A past president of OUTreach Southern Alberta, Bleiken was selected by Lethbridge residents in a two-way nomination race recently.
Follow @DMabellHerald on Twitter