Truck collection a labour of love
By Lethbridge Herald on January 6, 2019.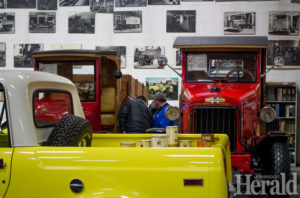 Herald photo by Greg Bobinec Hundreds of people looked through and learnt about the large collection of international motor trucks Saturday morning, for the Kirkham International Motor Truck Collection Open House. @GBobinecHerald
Greg Bobinec
Lethbridge Herald
gbobinec@lethbridgeherald.com
What started out as a family business later developed into a major hobby for George Kirkham, who opened his large collection of International trucks to the public for them to see and learn about the evolution of International trucks.
For decades Kirkham has been helping people with their restoration projects on International trucks through locating parts and giving them photos or live examples of what the originals look like completely restored. What started as a one-truck passion project grew into the impressive Kirkham International Truck Collection.
"The Kirkham collection started out as one little red pickup truck and we have grown over the last 30 years from one to around 60 trucks and a few trailers," says Kirkham.
"This is my life. My father spent 39 years with International and I have been a dealer for 34 years and sold for the dealer in town for seven years before that. We have little trucks and big trucks, trucks from 1913 through to a 1999 armoured car that we just acquired this year, a truck that built the Boulder Dam, five fire trucks and a few tow-trucks."
Being an International truck dealer, he was able to get access to the trucks he was wanting, along with Kirkham restoring a handful of the trucks in the collection himself.
As the hobby grew stronger with Kirkham, there was a need for more space to properly store and maintain — and as the collection grew, so did the warehouse. The collection continued to grow, grabbing the title of the largest collection of International trucks in western Canada, and the second largest in the country.
"When we first started opening up to people in 1998, we only had about seven trucks at the time so it has grown a lot, but we were always doing shows and parades," says Kirkham.
"I never envisioned what we have today, it is a lot of work to get it to this point. When it grew we put one 6,000-square foot building up and another one and then we put another 10,500-square foot one up so now I have 22,500 feet here which is just crazy."
Kirkham has always invited people into his collection to look through, climb on and learn about the massive collection that he has dedicated his life to. His experience with the International truck community has helped him be able to teach everyone from people restoring trucks, to people who just want to see them all about the history, evolution and significance off all of the trucks.
"I want to teach people something about the history of the truck industry," says Kirkham. "It is all about preserving history and I have thousands of photos, parts books, data books, it's really fun and a lot of people come to ask us questions and we always try to help them with their side of the hobby, too, and if we can share information and teach them."
The open house viewing of the Kirkham Collection had expanded hours in the morning to allow more people to observe it without over crowding as over 300 people view it each time. The motortruck collection is open to the public about four times a year and is also available for private functions. For more information on The Kirkham International Motortruck Collection, visit oldinternationaltrucks.com.
Follow @GBobinecHerald on Twitter
Leave a Reply
You must be logged in to post a comment.