$21M in funding for Waterton
By Lethbridge Herald on January 25, 2019.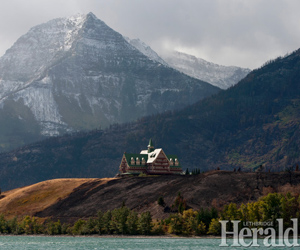 The iconic Prince of Wales Hotel sits on a fire-swept hillside in the days after the Kenow fire swept through Waterton Lakes National Park in 2017. Federal funding has been announced for recovery projects following the wildfire which burned a significant portion of the park's landscape. Herald file photo by Ian Martens @IMartensHerald
Tim Kalinowski
Lethbridge Herald
tkalinowski@lethbridgeherald.com
Waterton Lakes National Park received a much-needed infusion of $21 million in funding from the federal government on Friday to help with its ongoing recovery from the 2017 Kenow wildfire. Member of Parliament for Calgary Centre, Kent Hehr, made the announcement on behalf of Catherine McKenna, Minister of Environment and Climate Change and Minister responsible for Parks Canada.
"I am pleased to announce that the Government of Canada is investing $20.9 million in Waterton Lakes National Park to assist with recovery from the significant impacts of the 2017 Kenow wildfire," said Hehr. "We are committed to protecting the park's natural and cultural heritage and rebuilding important visitor infrastructure to ensure that Canadians can keep connecting with this special place, now and into the future."
According to John Stoesser, partnering engagement and communications officer with Waterton Lakes National Park, the money will be put to good use.
"This is a really great investment in restoring the park following the wildfire," Stoesser told The Herald Friday afternoon. "There is the infrastructure aspect to it, and rebuilding those assets that were damaged or destroyed.
"It is also going to go toward the research and monitoring that will happen after a wildfire. There are all sorts of interesting projects that are going to be going on that have to do with vegetation re-growth, or on how the water systems may be affected by wildfire, and then also what is happening with micro-climates. And some of this will also go toward protecting cultural heritage."
Alberta Wilderness Association spokesperson Ian Urquhart welcomed the news that ecological monitoring and research components are included in the federal funding announcement.
"This announcement is especially welcome," said Urquhart, "if Parks Canada uses these additional dollars to strengthen the ecological integrity of Waterton Lakes."
In 2016 Parks Canada ranked Waterton Lakes National Park's grasslands and forests ecosystems as "poor" even before the fires, he noted.
Despite having fewer areas open in 2018, the park still had about 400,000 visitors up until the end of November. Stoesser said park staff and townsite residents are encouraged by this ongoing support as they work hard to restore the park.
"It was almost unprecedented that a national park had been evacuated like this, and it has to be rebuilt to restore a lot of the major assets," stated Stoesser. "However, we had from the get-go a lot of support, and it does feel like we are moving on and continuing the work we have started. This funding will play a significant role in completing the rebuilding work we have been doing."
Follow @TimKalHerald on Twitter
Leave a Reply
You must be logged in to post a comment.