Large police cadet class offers great diversity
By Lethbridge Herald on January 28, 2019.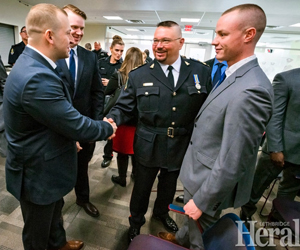 Lethbridge police chief Rob Davis greets cadets Kirill Zykov, Luke Ford and MacGregor Munro following a welcome orientation event for a 34-member cadet class of police and community peace officer recruits from five different agencies. Herald photo by Ian Martens @IMartensHerald
Amanda Michalezki
Lethbridge Herald
amichalezki@lethbridgeherald.com
The largest cadet class in recent Lethbridge Police Service history held its orientation Monday for the start of a 22-week classroom and scenario-based training delivered in partnership with the Lethbridge College School of Justice Studies.
Police recruits and Community Peace Officer recruits will train side-by-side with the 34-member class, which includes 23 Lethbridge cadets, three members from the Blood Tribe Police Service, one from the Taber Police Service, four from the Canadian Pacific Police Service, and three from the Manitoba First Nations Police Service.
This will be the first incarnation of the Lethbridge Police Service hosting a partnership with these agencies and Lethbridge College.
Jeanine Webber, Dean of the Centre for Justice and Human Services, School of Justice Studies for Lethbridge College, said the college knows that policing can be a very challenging role in the community because the complexity of policing has changed over the years. By taking a look at what competencies a police officer needs to have from the moment they start, being able to partner with the college and LPS, they are able to provide an in-depth learning experience to better prepare the cadets.
"They're getting opportunities to be in those real-world situations that they'll find themselves in but having the luxury of getting very valuable feedback from experienced officers that will help them to continue to learn and to grow," said Webber.
The college is also thrilled to be expanding its program, she said, and for other services to recognize the value the partnership and approach to training provides.
Christy Woods, Sgt.-In-Training and cadet class co-ordinator, feels it's exciting to have such a big class participating in their station for the first time. She adds it will be challenging but also rewarding.
In addition to training with two aboriginal policing agencies – the Manitoba First Nations Police Service and the Blood Tribe Police Service – the LPS has never done joint training with an out-of-province agency before which has made it the largest class they've ever had.
"I think it's a very exciting endeavour, especially for the cadets who are going to be inside the classroom," said Woods. "An opportunity like this to have 34 peers of such diverse backgrounds will be a once-in-a-lifetime chance."
She added the number of different people will expose them to different cultural, age and life experiences which will help them learn more from each other.
Charity Black Rider is the first female cadet from the Blood Tribe Police Service. She said the Blood Tribe has 20 per cent females for their police service so she is proud to be an addition to that number and is excited to have the opportunity to be a part of her community.
Black Rider said she knows the culture, the people, the struggles and hardships the people in the Blood Tribe face which is why she thinks it is going to be great for her to police in her own community.
"It's really nice to have culture everywhere around me because that's something I always instil in myself is my culture because I believe in it," she said.
Follow @AmandaMicHerald on Twitter
Leave a Reply
You must be logged in to post a comment.