Drilling in city limits a shock to city council
By Lethbridge Herald on February 4, 2019.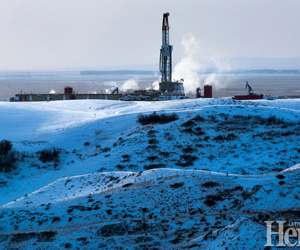 Drilling operations continue Monday afternoon at an existing well site within city limits just west of Cottonwood Park. Tamarack Valley Energy filed a notice in October of their intention to drill but city council was only informed on Monday. Herald photo by Ian Martens @IMartensHerald
Tim Kalinowski
Lethbridge Herald
tkalinowski@lethbridgeherald.com
To opponents of hydro-fracking and oil and gas drilling in the City of Lethbridge's corporate limits, Monday's revelation that a drilling and hydro-fracking project by Tamarack Valley Energy on an existing wellsite directly west of the Cottonwood Park boundary came as a shock.
What was further shocking to many was Mayor Chris Spearman and the rest of city council claimed they had absolutely no knowledge such a project was ongoing until hearing about it through social media on the weekend, with official confirmation coming from the city manager just before Monday's public meeting.
Spearman confirmed city staff members in the Planning department were made aware of Tamarack's proposed project last Oct. 26, but information was not communicated to council or the city manager.
"At every opportunity the City of Lethbridge has notified the provincial regulator and company representatives that we are opposed to any new oil and gas drilling within city limits," stated Spearman. "We believe now, as we did then, that such activity would effectively sterilize developable, urban land and burden the city with additional costs by creating the need for setbacks to separate wells and underground pipelines from future neighbourhoods."
Spearman did state, however, council members would not be caught off guard again.
"We will take further action to oppose any future drilling within the City of Lethbridge," Spearman told The Herald after council unanimously passed a bylaw restating its previous opposition to oil and gas drilling in city limits at the end of the public meeting late Monday afternoon.
"We will be appealing any future drilling applications, any future applications for water divergence, or any requests for water licences."
Spearman also stated council had charged City Manager Bram Strain to get to the bottom of why council wasn't informed when Tamarack gave its original notice in October, and why the two-week response period was allowed to lapse without a formal letter of opposition being drafted to Alberta's Energy Regulator by City staff.
"We will be asking the City manager to deal with that," said Spearman. "That's his job."
City of Lethbridge planning and development officer Jeff Greene confirmed Monday his staff had made a judgment call to not inform council in this instance.
"From our standpoint, we looked at it from a technical perspective and made the determination there was little we could do," he said, "so we didn't pass that information on to city council. That is something we will change now, and we will be putting in a protocol to ensure city council is informed of these (drilling) applications in the future."
Environment Minister Shannon Phillips said as far as she could determine Tamarack had followed proper procedure at the time of their notice to the City in October but, in her opinion, had only conformed to the "letter of the law" and not its spirit.
"One cannot fault the company; they were following the rules as laid out," said Phillips. "That is all fair enough, and they have done this in this case. Having said that, it would seem to me for orderly activity to take place in the realm of exploration, and particularly with development within city limits, that some conversation and outreach to the municipality and the citizens of Lethbridge would be in order in this instance."
Phillips said new rules brought in by her government on Jan. 1 will ensure municipalities have automatic standing with the AER, and situations like this one can be avoided in the future.
Tamarack Valley Energy sent a statement to The Herald late Monday saying it had followed all the steps the law required.
"Tamarack prides itself with its environmental and safety performance and has followed all the mandates as required by the AER including all notifications to affected parties including the adjacent resident and the City of Lethbridge," the statement reads in part. "We will be following up directly with Minister Shannon Phillips and Mayor Chris Spearman to further understand any concerns."
Tamarack also confirmed work on the site is nearly complete.
"The current operation of drilling is concluding and soon the rig will be moved off the lease," the statement explains. "Working together with communities is a priority for Tamarack and we are committed to deeper engagement as directed by the municipality on any future wells we undertake within the city limits."
The citizens group No Drilling Lethbridge, which has led the effort to have drilling banned within city limits for a number of years, also released a statement to The Herald late Monday.
"We are deeply disappointed that city staff did not inform council and the city manager," the No Drilling statement reads, "and we expect that our city council will fully investigate the lack of disclosure. We are disappointed that there is no mechanism in place that would inform local residents about drilling applications within their municipalities. Residents found out because of noise and activities once drilling started. We find this unacceptable and would urge council and our MLAs to make changes so that the public can have a voice and input into urban drilling applications."
Follow @TimKalHerald on Twitter
Leave a Reply
You must be logged in to post a comment.