Future college students welcomed at open house
By Lethbridge Herald on February 10, 2019.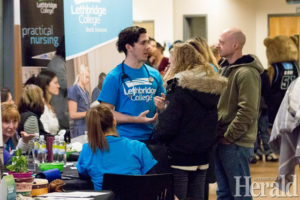 Herald photo by Greg Bobinec Lethbridge College faculty talk with future students and their families about the programs and services the college offers, at the annual Open House, Saturday afternoon. @GBobinecHerald

Greg Bobinec
Lethbridge Herald
gbobinec@lethbridgeherald.com
Lethbridge College opened its doors and welcomed in hundreds of future students looking to start their future careers with programs at the college for their annual Open House.
Throughout Saturday, people were able to explore the school grounds with campus tours, program tours and introductions to all of the different programs and services they offer. With an additional incentive to sign students up for programs, the college waived the application fee for any students who signed up the day of the open house.
"Open House is an awesome day for anyone who is considering attending Lethbridge College anytime in the future," says Jessica Quarterman, recruitment and events co-ordinator at Lethbridge College. "If you are in Grade 10, 11 or 12 and you are looking into your future, or if you are already graduated and you are thinking about coming to the college, this is a great way to experience everything."
All of the programs were on full display to give future students the opportunity to see what is involved with the program, as well as speak one-on-one with the instructors about questions or concerns they may have entering the program.
Quarterman says there are a lot of options when coming to the college and the open house is the best way to explore it all.
"This is a great way to see what Lethbridge College has, it is the one day a year that students can come in on a Saturday to explore, see what is available and have everything all in once place. This is not something that would happen on a daily basis," says Quarterman.
"One thing I am really proud of at the college is the community and the culture that we have here, the vibe here at the college is something that you can't experience unless you are here."
The college also offers the student-for-a-day program which allows an individual to sit in on a day full of classes with a current student to be able to get a better feel for the college and program before enrolling. Alexia Marie says the open house was a good start for figuring out her future, but is more looking forward to being a student for a day to finalize her decision.
"The open house is a great way for me to help decipher which program I am really interested in and which direction I want to go," says Marie. "Being a student for a day will really help me get into the mindset of going back to school and what will be expected of me. I am really nervous going back to school after having a break, but I am looking forward to furthering my education and going further in life."
The annual Open House brought more potential students into the institution to get a better understanding of the culture and community the college has created for educational development. With the application deadline for the fall semester approaching, Lethbridge College encourages anyone thinking of attending to book an appointment with an educational advisor, or visit lethbridgecollege.ca for more information.
Follow @GBobinecHerald on Twitter
Leave a Reply
You must be logged in to post a comment.