Library celebrates relationship with Indigenous community
By Lethbridge Herald on February 17, 2019.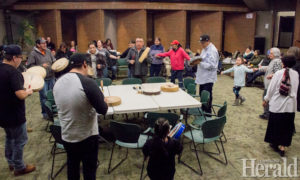 Herald photo by Greg Bobinec Members of the Blackfoot community gather at the Lethbridge Public Library to celebrate their 100th anaversary with a traditional Round Dance event, Saturday evening. @GBobinecHerald

Greg Bobinec
Lethbridge Herald
gbobinec@lethbridgeherald.com
In honour of the Lethbridge Public Library's 100th Anniversary, the library hosted a traditional Blackfoot Social and Round Dance Saturday evening, to bring the community together and celebrate the growth the library has had with Indigenous communities.
A round dance consists of a group of hand drummers which stand in the centre, singing song, while groups of people dance in a circular movement around the drummers. In some occasions, dancers will join hands while dancing. Round dances can range from smaller family and friend gatherings, to large events which bring the community together for an evening.
"Originally it started with the plains area tribes, the Round Dance was stated as a means to bring communities together, usually during the winter months, to share songs and stories, and to have fun," says Linda Weasel Head, Indigenous Liaison, Lethbridge Public Library. "The Round Dance songs usually consist of love, loss and humour."
Powwow dances are different from round dance events in that powwow's are a way for individuals or groups to express their Indigenous spirituality, history and culture through a variety of styles of dance. Round dance events begins with sharing a meal, followed by hours of round dancing to different songs, with different groups of people to bring the community together.
"It is a way for our community members to come together to share food, stories and song," says Weasel Head. "Some also say it is a way to help with healing in the community or an individual, to celebrate a special event, or to honour accomplishments."
Over the last few years, the Lethbridge Public Library has been working on the relationship between itself and the Indigenous communities through learning opportunities such as language classes, the Indigenous Art Club, Indigenous story events, informational books for adults and children, as well as the dedicated Indigenous space called Eagle's Nest.
The Lethbridge Public Library is committed to improving the relationship between themselves and Indigenous communities to grow and educate the public on the history, as they move into their second century in the community. For more information on programs and classes offered at the library, visit lethlib.ca.
Follow @GBobinecHerald on Twitter
Leave a Reply
You must be logged in to post a comment.