Leader says Alberta Party is middle-of-road alternative
By Lethbridge Herald on March 14, 2019.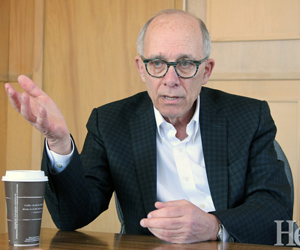 Alberta Party leader Stephen Mandel discusses his plans, during a one-on-one sit-down interview at the Lethbridge Herald Thursday morning, for the upcoming 2019 provincial election. Herald photo by Nick Kuhl @NKuhlHerald
Dave Mabell
Lethbridge Herald
dmabell@lethbridgeherald.com
The Alberta Party will be contesting all 87 seats in this spring's election.
And it's aiming to win at least 45, says leader Stephen Mandel.
While the left-leaning New Democrats and the right-wing United Conservatives ramp up the rhetoric, he says Alberta voters want a middle-of-the-road government that will diversify the economy and trigger new jobs.
"We believe you can feed your family and keep your rights" with a moderate government in office, he said during a stop Thursday in Lethbridge.
Mandel, a former mayor of Edmonton, was meeting voters and potential candidates across southern Alberta. The party has nominated educator Zac Rhodenizer in Lethbridge West, he said, and an East candidate will be named shortly.
Southern Albertans he's talked to aren't excited about either of the dominant parties, he said. They have found their local MLAs are "not accessible." And they dislike the carbon tax.
The governing New Democrats have not been able to diversify Alberta's economy significantly, he said, because they don't understand business. But Mandel said Albertans are wary of the alternatives being proposed by the United Conservatives and leader Jason Kenney, potentially affecting many of the advances Albertans have seen in recent years.
"The UCP would see us go back 25 years."
Albertans want to protect the rights of women and minorities, he said, to keep improving their health-care system and to put a priority on increased educational opportunities for the next generation.
Alberta has proportionally fewer students in post-secondary education than most other provinces, Mandel said. To support programs that diversity the economy, Alberta must pay for more "seats" in its universities and colleges, and help residents of remote parts of the province access the courses they need.
To pay for that education, he added, young people deserve to be paid at least $15 per hour, no matter what their job is. The Alberta Party would oppose any rollbacks.
"That ship has sailed."
Mandel advocates greater local decision-making in the province's health-care system. But Alberta must also invest in new hospitals and care facilities.
"Red Deer needs a new hospital," while medical officials here and Red Deer are speaking out for essential cardiac facilities right away.
On another health issue, Mandel said most Albertans are "strongly supportive" of his call for compulsory immunization for school children.
"We need to work with parents who are against it," reminding them of the dangers childhood illnesses facing their children and others.
As leader, Mandel said, he would allow "free votes" to his caucus members — and stand ready to accept positive recommendations on an issue from other political parties. He cited a private member's bill protecting students in Gay Straight Alliances, which he said should have received all-party support during the final term of the former Progressive Conservatives.
Mandel suggested it's questions like minority students and women's rights that make Albertans uneasy about Kenney's ideology, along with his plans to take the axe to education and health care.
It's budget cuts like those that have earned Kenney so much support from big business interests, he observed.
"With all that money from the car dealers, he owes something."
Follow @DMabellHerald on Twitter
Leave a Reply
You must be logged in to post a comment.