Province announces funding for Hwy. 3 bridge replacement
By Lethbridge Herald on March 15, 2019.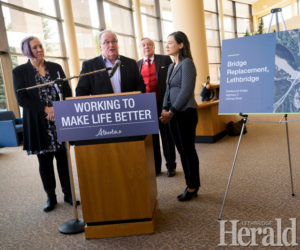 Herald photo by Ian Martens Transportation minister Brian Mason, alongside MLAs Maria Fitzpatrick and Shannon Phillips and mayor Chris Spearman, speaks during an announcement of a replacement of the Highway 3 bridge.
Tim Kalinowski
Lethbridge Herald
tkalinowski@lethbridgeherald.com
The city of Lethbridge will be getting a new bridge — but not a third
bridge.
Alberta Transportation Minister Brian Mason made the announcement
Friday morning at Lethbridge City Hall that his government would be
spending $100 million to replace the existing bridge across Highway 3
by 2022.
"Our government is committed to building strong, sustainable
infrastructure across the province," said Mason. "This new long-
awaited bridge puts safety first while ensuring Lethbridge commuters
spend less time in traffic and more time with their family and
community."
However, the first question Mason was asked in the media scrum
following his announcement was whether or not the province would also
consider funding a third bridge for the city.
"The Highway 3 bridge is on a provincial highway and is a provincial
bridge," stated Mason. "When a third bridge is constructed it will
be a City bridge, and will be the responsibility of the City."
Mason did not rule out the province advancing some seed money for a
third bridge when and if the City is ready to go forward with its own
construction plans, but stated that would not be considered until
after his government is re-elected for another term.
"We will look very seriously at providing in a future date for a
third bridge for the City of Lethbridge, but it will be a municipal
bridge and not a provincial bridge," he said. "And I think that is
an important distinction to be made. We are certainly prepared in a
second term to to take a good, hard look at it and see what we can do
to assist the City to provide that additional crossing."
Mason said the new bridge across the Oldman River on Hwy. 3 was still
in the conceptual stage, and the grant funding had been newly
allocated for the project out of surplus funds from other transport
project builds across the province. Having allocated the funds, an
engineering study would now be commissioned and a public consultation
process would be initiated, ultimately leading up to that 2022
completion date, stated Mason.
The new bridge on Hwy. 3 will be a modernized four-lane highway with
full access lanes leading onto and off of it, and would be constructed
in the current bridge's location, explained Mason. The old bridge
will be demolished in stages with traffic being reduced to one lane as
construction commences.
Mayor Chris Spearman welcomed news of an updated bridge to replace the
current bridge. According to the province, the Hwy. 3 bridge was first
placed near its present spot in 1947, and was then later expanded to
its current configuration in 1966.
"It's about partnership," said Spearman, "and working together.
What we have seen is tremendous growth in the economy of Lethbridge
and diversification, in terms of agricultural production, seeing the
Cavendish plant coming onstream this year, adding 7,000 more trucks a
year. Highway 3 is our commercial route in and out of Lethbridge; so
(this announcement) is important."
Follow @TimKalHerald on Twitter
Leave a Reply
You must be logged in to post a comment.