Storyhive grant helps local filmmakers
By Lethbridge Herald on April 14, 2019.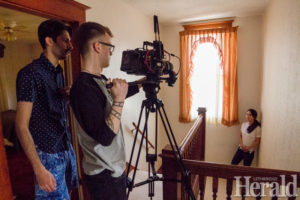 Herald photo by Greg Bobinec Director Arjan Gill works with his crew on getting the right shot for their upcoming mystery Indigenous Telus Storyhive funded film called He Shall Pass. @GBobinecHerald
Greg Bobinec
Lethbridge Herald
gbobinec@lethbridgeherald.com
Local film producer Arjan Gill with Gill Productions has teamed up with local producer Kynan Gordon and director Adam Thom to bring a mystery thriller short film to screens in Canada with the support of the Telus Storyhive grant.
The film, He Shall Pay, follows what happens when the Devil falls in love and goes along with the theme of betrayal and the acceptance of inner demons gaining whatever we desire. When the main characters find out their neighbour is not who they thought he was, they are forced to look darkness in the eyes and overcome it. Writers of the film say the ideas were motivated by Indigenous stories that talked about the isolation of the prairies, forcing people to accept their inner voice.
"This project is a mystery thriller/ horror, it is a short film and it has some underlining themes of First Nations folklore and history," says Kynan Gordon, producer and project lead.
"What inspired it were a couple stories from my grandfather who is Métis First Nations and he used to bring horses out here and he would always tell me stories about how the prairies sometimes will drive you a little crazy because of just how silent it is out here, and then stories about the dirty '30s and stuff like that slowly driving you insane, and then I wanted to build on that concept but bring in some First Nations folklore and some history behind it as well."
The project has been a collaborative effort between local creators wanting to make their visions come to life. Between Gordon, Gill and primary writer Erin Chase, they were able to create an eerie film with strong symbolism of Indigenous culture in southern Alberta. With the script in hand, the project received funding from the Telus Storyhive Indigenous Edition Grant.
"It is absolutely incredible to see it played out and once we actually see it on television, this will just be something really incredible for me to see my writing come to life," says Chase. "This has been a fun learning experience and I don't think that we have had any bad moments on set, this whole process has been really fun. This has also been a great opportunity to bring together a younger crew from different parts of southern Alberta to showcase what we have to offer."
This is the second film that Gill Productions has been funded for through the Telus Storyhive grant program. Gills' brother who is starring in the film says it has been a fun and interesting project to work on, and that he is willing to do anything his brother asks to help make his dream of bringing more local film production to southern Alberta.
"If you read the script you will see that there isn't a lot of dialogue, the way the film is going to be put together is going to put out the themes very well with all of those symbols we want to give out," says Lakshijt Gill, actor.
"I hope that this helps us continue making more films in southern Alberta, which is what my brother's dream with Gill Productions is, it is to continue making movies from southern Alberta about southern Alberta and to build a scene out here because he doesn't want to move out to a big city or another province, he wants to build it here."
As the cast and crew continue to spend countless hours preparing and filming, the film He Shall Pay comes closer to being viewed on television screens. Filming wraps up soon and the crew will continue to work on editing it before its premiere on Telus on Demand and on storyhive.com in September.
Follow @GBobinecHerald on Twitter
Leave a Reply
You must be logged in to post a comment.