SAIPA launches 'Pie It Forward' campaign
By Lethbridge Herald on May 14, 2019.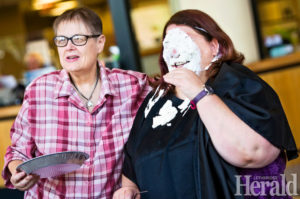 Herald photo by Ian Martens Gwen Rowley stands next to councillor Belinda Crowson, who took a whipped cream filled pie plate to the face, to help launch the Southern Alberta Individualized Planning AssociationÕs Pie It Forward fundraising campaign Tuesday at city hall. @IMartensHerald
Greg Bobinec
Lethbridge Herald
gbobinec@lethbridgeherald.com
The Southern Alberta Individualized Planning Association (SAIPA) is inviting the community to throw a pie in the face of a friend, family member, co-worker, or a willing participant to help raise funds to support their program.
For the last three years, SAIPA has hosted their Pie It Forward fundraising campaign and this year's campaign launch kicked off with City councillor Belinda Crowson volunteering to take the first pie in the face. SAIPA is encouraging community members to sign up to send pies fly around the city from June 10-14.
"We are launching our third annual fundraiser called Pie it Forward, and it is a fun fundraiser that gives participants the opportunity to help us raise some funds for our programming, while at the same time getting the opportunity to send a pie in the face to a friend, co-worker, family member, or friendly competitor," says Sarah Lebeau, Board President of SAIPA.
"The funding is critical to our programming, we raise the money so we can provide workshops to adult individuals in our community with disabilities. Our workshops range from abuse prevention, building healthy relationships, making first impressions, staying safe, so really fundamental life skills are being taught in our workshops and are free to our members."
The light-hearted event allows people to send a pie into the face of whoever they want for a minimum donation of $20. Volunteers drive the pie to the recipient, and let them know that they have been "pie'd". From there, the recipient has several options to keep the event fun and friendly, including sending a pie back for double the price, and purchasing a real pie to enjoy.
Funds raised will assist SAIPA to further enhance their resource library full of self-advocacy workshops, which continue to grow in demand every year. The workshops are crucial to giving adults with disabilities the skills to be safe, self-determined leaders in their own lives. SAIPA teaches 30 workshops per year in Alberta's south region.
"We are hoping to raise as much as we can, last year we raised $8,000 and that was remarkable so this year we would like to hit that and exceed it and have some fun, too," says Lebeau.
"A donation of $250 buys a workshop and typically our workshops are accessed by about 700 adults and youths with disabilities. We have a resource library at our office and individuals can come and go and take out the resources they want to access, so $250 buys a program of that nature that gets a tone of use by whoever wants to access it."
If you would like to support SAIPA and their workshops by sending a pie flying into the face of a participant, place your order online by June 3, at saipa.info/pieitforward. SAIPA is also looking for people who would like to volunteer their time assisting in this fundraiser, with more details found online.
Follow @GBobinecHerald on Twitter
Leave a Reply
You must be logged in to post a comment.