By Beeber, Al on June 4, 2019.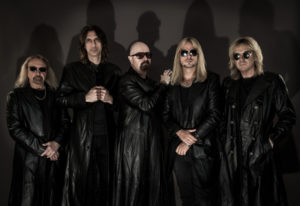 Al Beeber
Lethbridge Herald
The only time Ian Hill thinks of being in the music business for 50 years is when someone asks. And it's easy to understand why. Hill, the bassist and lone remaining founder of heavy metal rock icons Judas Priest, is too busy living in the moment.
Hill and his bandmates bring their "Firepower" tour to the Enmax Centre Monday at 7:30 p.m. with opening act Uriah Heep. Tickets are $67.50, $87.50 and $97.50 at the Ticket Centre locations, (403) 329-7328.
Decades after being formed in West Bromwich, England by Hill and guitarist K.K. Downing, Judas Priest is still touring and recording. The band's latest release "Firepower" was released in 2018 and has become one of the band's most successful.
Along with Hill, band members include drummer Scott Travis, guitarists Richie Faulkner and Andy Sneap and legendary rock vocalist Rob Halford who was introduced to the band by Hill in the 1970s when the bassist was dating his sister. Halford joined the band in 1973 and left in 1992, returning in 2003. Drummer Scott has been with the band since 1989 and Faulkner since 2011 when Downing left.
Sneap, who is also a producer, joined the band as a touring member after guitarist Glenn Tipton was diagnosed with Parkinson's Disease in 2018.
Tipton performed a couple of songs including the classic "Living After Midnight" on this tour's opening date May 3 in Florida but Hill said Monday in a telephone interview the band didn't expect him back for any more shows in the immediate future.
"Glenn isn't feeling that well at the moment. He came out for the first show in Florida but I can't see him coming out for the rest of the tour," said the 67-year-old Hill.
"But who knows with modern medicine?"
While the band would love to have Sneap as a permanent replacement, Hill said their touring bandmate has plenty of projects of his own he's working on. In addition to Judas Priest, he's also worked as a producer with bands such as Saxon, Accept, Testament and Megadeth.
"We love Andy, he's a great guy and a tremendous guitarist and we'd love him" to be a permanent part of the band, Hill added.
On this tour, Lethbridge fans can expect the Priest to play several cuts from their latest recording plus others from the band's extensive back catalogue.
"And we have to leave room for the fans' favourites. It gets difficult but we do it. We've changed the entire set (aside from the favourites). We want to keep it a fresh experience. It's a totally new show."
As for those five decades of playing and recording, Hill says it doesn't seem that long.
"We enjoy what we do and it doesn't seem like 50 years. We're enjoying it too much to register. With every album we try to take a step forward and keep it current. 'Firepower' is new and relevant and it keeps us current in the eyes of the younger fans.
"We always try to keep up with the times."
The band also doesn't dwell on the fact it hasn't made the Rock and Roll Hall of Fame despite its ground-breaking career. In fact, Halford established the black leather and stud look which is a staple of heavy metal when he began employing that fashion early in Judas Priest's career.
The band was on the 2018 ballot for the first time but wasn't even nominated in 2019.
"We don't dwell on that stuff; we do this to please ourselves and our fans."
Opening act Uriah Heep is a band that formed around the same time as Judas Priest and Hill says band members are fans.
"They go back as far as us and they're a great band."
Follow @albeebHerald on Twitter