Reports of potholes down over last year
By Lethbridge Herald on June 11, 2019.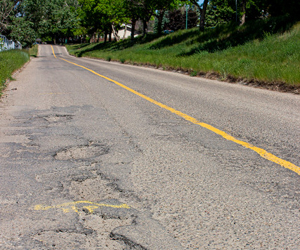 Lethbridge drivers can feel better about driving on the roads this spring as the number of pothole reports is down from the previous year by over 100, with repairs being made quickly. Herald photo by Greg Bobinec @GBobinecHerald
Dave Mabell
Lethbridge Herald
dmabell@lethbridgeherald.com
As local motorists know, it was a tough winter for Lethbridge roads.
Frost boils became an obvious problem this spring. There were so many — and so large!
But surprisingly, the number of resident-reported potholes was actually down.
From Jan. 1 to June 11, there were 403 reports received online or through the 311 phone line.
That compares with 537 over the same period last year, according to Adam Campbell, transportation operations manager for the City of Lethbridge.
"This would partially be due to improvements in our reporting system — filtering out duplicates — but largely attributable to investments in the road system," he says.
But though they were fewer, many of the paving failures were much larger.
"Frost boils in particular have been a problem, with over 25 reported," Campbell says.
That's far higher than the average, five.
"More importantly, however, the frost boils are generally much larger than we are accustomed to."
As a result, Campbell says, paving contractors were hired to rebuild some of the fractured roadways, allowing City crews to get to the smaller repairs sooner.
That's meant many of the problems have now been remedied. But Campbell says the job never ends.
"More requests will keep coming in," he says. "Realistically they should never stop."
So he encourages residents to call if they encounter new roadway issues, or if they think their earlier report has fallen through the cracks.
"It alerts us to the situation, providing the feedback we need to effectively manage the road system."
How quickly repairs are made, Campbell explains, depends on a number of factors.
"In terms of timing the repairs of roadways, there are any number of operational considerations for staff," he says.
"All requests are triaged according to risk and customer impact."
He says crews aim at responding to every request within the year.
"But where your specific request falls within the priority list may vary."
Repairs will be done sooner or later, based on how close the pothole is to others in the area.
Not all repairs are his department's responsibility, Campbell points out.
When a project contractor's excavation or trenching disrupts a roadway, it's that company's job to restore it to its normal state.
If McNally Construction needs to cut through a roadway while installing a new sewer trunk along Scenic Drive North this summer, for example, Campbell says the company's paving crew would be expected to repair it.
Most roadway repairs and paving projects are handled by City forces, he points out. But if a severe winter created more problems than they could handle, "we would look for support from the outside."
For repairs underway, Campbell adds, there's a kind of bonus.
The asphalt plant that supplies his crews is making "superpave" asphalt at the moment.
"This is a higher-quality mix generally used on arterial roads."
So his crews will be using this premium material for all patching and pothole work, until the plant switches to a standard asphalt mixture.
Follow @DMabellHerald on Twitter
Leave a Reply
You must be logged in to post a comment.