City student earns prestigious scholarship
By Mabell, Dave on July 5, 2019.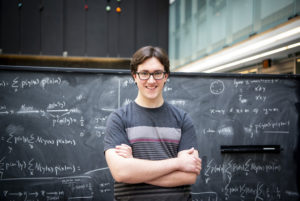 Submitted photo Marin Schultz
Lethbridge Herald
A Lethbridge student has been named winner of a prestigious scholarship to McGill University.
Marin Schultz is one of 50 high school students from across Canada to win the Schulich Leader Scholarship, providing $80,000 to cover his undergraduate education. He'll begin honours physics and chemistry courses this fall.
"This is a very competitive award and Marin was nominated by his home school board," says his father, Arlan Schultz.
A student at Catholic Central High, Marin also studied on a home-school basis through a School of Hope distance program and has worked with the Wisdom Home School board as well.
"All of these schools contributed to his education," says his father – a University of Lethbridge professor who's chair of the department of music composition, theory and digital audio arts
"We are very proud of Marin, he is a very gifted and humble person and wants to use his knowledge and innovations to help people," he adds.
In announcing the award, Schulich officials cited his "passion for scientific research to inspire the next generation," pointing out Schultz has spoken at science fairs, clubs, schools, festivals and youth forums both nationally and internationally.
"Most notable is his involvement with Festival Eureka! and Genius: 100 Visions of the Future which allowed him to share research with international scientists," they said.
Founded in 2012 by philanthropist Seymour Schulich, the scholarship program provides scholarships for 25 Canadian students who aim at an engineering degree and 25 for others beginning studies in science, technology or mathematics.
It also sponsors a similar program in Israel.