Interfaith Food Bank art contest winners announced
By Lethbridge Herald on July 10, 2019.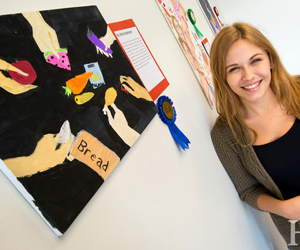 LCI Grade 12 student Ashley Hopkinson stands next to her winning art as part of the Interfaith Food Bank's Food for All student art competition on display at the Chinook Branch of the Lethbridge Public Library. Herald photo by Ian Martens @IMartensHerald
Greg Bobinec
Lethbridge Herald
gbobinec@lethbridgeherald.com
The Interfaith Food Bank announced the three winners of its annual art contest that follows the theme of "Food for All," Wednesday at the Lethbridge Public Library Crossings Branch.
Earlier this year, Interfaith Food Bank restarted its art contest to get local students involved with raising awareness for food security among local youth. As the entries for the competition came in, a group of local artists evaluated the pieces, looking at the relation to the theme, mood, feelings and overall effect of the art.
"We are here today to celebrate our student artists. This is the third year that we have done our annual art competition for Interfaith Food Bank and we are very pleased to be offering three cash prizes to our top winners," said Danielle McIntyre, executive director with Interfaith Food Banks Society of Lethbridge. "I think it is important that we are always inspiring our younger generation to have that spirit of giving and caring for others. Hunger is a community issue and it is very important that we are all invested in, and it is really nice for us to inspire the youth to use their talents to tell the stories of the issues in our community."
Students from local schools worked on their food-inspiring art pieces, and McIntyre said every year the art seems to get better and she is impressed by the way students are able to manipulate the theme into many variations.
"It is also really interesting to see the different concepts they come up with for our theme 'Food for All'," said McIntyre.
The first overall best art winner was Avorie Henderson whose piece shows many different hands reaching for an orange to show an equal chance at food access no matter the race, religion, or belief background. The first place for junior high went to Aaron DeSilva who showed in his art a variety of people from different cultures, leaving the message that we should all help each other.
The first place high school art work went to Ashley Hopkinson, a Grade 12 student from Lethbridge Collegiate Institute, who showed hands reaching for different foods from around the world to show everyone can have what they need for provisions, if cultivated correctly. In the first year of the competition, Hopkinson won third place for her entry, and she said she is happy with the outcome this year.
"Not having enough food is a really big issue in society so when the opportunity came up, I thought it was a really good idea to get involved with this contest," said Hopkinson. "The theme was 'Food for All,' so I thought having different foods from different places, and having people grabbing for it was a good idea because I think it shows well that all people need food."
Art contest organizers hope the contest will help further their efforts in engaging local youth to put their talents to good work, for a good cause, and have them help raise awareness and support in the community. The winning art pieces will be on display until the end of summer, at the Lethbridge Public Library Crossings Branch.
Follow @GBobinecHerald on Twitter
Leave a Reply
You must be logged in to post a comment.