'Ghostbusters 2020' shoot brings out fans of all ages
By Lethbridge Herald on August 8, 2019.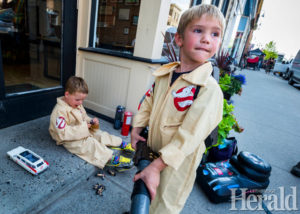 Five-year-old Kody Kristensen holds a toy proton pack while playing with fellow Ghostbusters fan four-year-old Machlan Miller as the crew works in the background along main street Thursday during filming of Ghostbusters 2020 in Fort Macleod. Herald photo by Ian Martens @IMartensHerald
Nick Kuhl
Lethbridge Herald — Fort Macleod
nkuhl@lethbridgeherald.com
The next generation of Ghostbusters were in Fort Macleod on Thursday.
While speculation grew on Main Street about what cast and crew members may be around, two youngsters were dressed in full Ghostbusters attire on a sidewalk just down the street from where production was taking place.
Four-year-old Machlan Miller and Kody Kristensen, who turned five on Thursday, had not met each other before. But their costumes and toys brought them together and their parents later exchanged contact information.
"My son became a fan naturally," said Machlan's father, Keith Miller, of Lethbridge, on what attracted them to visit the nearby set.
"Even though I am a huge fan, it was one of those things. He saw ghosts, he saw the symbol somewhere and said 'I want to know more.' And then he heard the song (by Ray Parker Jr.). Then you show him the music video because it's not too scary. Since then, it's huge. He's made it his own. He found a firefighter costume and then put it on. We were like 'you're a firefighter.' He was like 'no, I'm a Ghostbuster.' His poor sister has to be the ghost in everything."
Production for "Ghostbusters 2020" began in Fort Macleod Thursday, with a potential shooting schedule lasting until Aug. 18. It's the latest Hollywood movie or TV show to film there following Kevin Costner's "Let Him Go" earlier this year, "Fargo," "Interstellar" and "Brokeback Mountain."
The new movie is being directed by Jason Reitman, son of original "Ghostbusters" director Ivan Reitman, with newcomers to the franchise including Paul Rudd and Finn Wolfhard of "Stranger Things."
Several businesses on Fort Macleod's Main Street have had their appearances altered for the shoot. The exterior of Stronghold Brewing Co. now has a taco restaurant sign.
On Thursday, Ayleigh Henderson, who owns the brewery with her brother and their parents, received a reminder on her Instagram they were changing windows out in their building during renovations one year ago. The upper level windows were still left over from when season two of "Fargo" shot in Fort Macleod in 2015 as the building had been vacant until the family bought it.
"It's very exciting," Henderson said.
"It's great for the town. It shows off Main Street and the buildings that we have. It's really fun to be part of a big project like this. During filming on Main Street, we're going to be kind of boarded up to look like we're under construction. The great thing about that, though, is we can still be open. We'll be in background shots that they're filming down Main Street. We hope we make the final cut."
For the older Miller, meanwhile, an actor himself in Lethbridge's Shakespeare In The Park — which has their closing night performance Friday at 7 p.m. at Galt Gardens — he was happy to see part of the production with his son.
"I came out because I have yet to be discovered and clearly in need of stardom," he said jokingly.
"I'm a big fan of movies. And seeing something in small town Alberta is just great. Since 'Interstellar,' it seems to be once a year. With 'Ghostbusters' coming out, it's just one of those things where I'm back to being 12. I am the kid from 'Stranger Things,' which is ironic because he's in it. It's one of those films that seems to hit multiple generations. I was his age (his son) when the first one came out."
Follow @NKuhlHerald on Twitter
Leave a Reply
You must be logged in to post a comment.