By Mabell, Dave on August 14, 2019.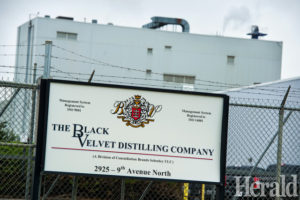 Herald photo by Ian Martens Black Velvet Canadian Whisky, distilled in the cityÕs Palliser industrial park, is set to be in new hands as Heaven Hill Brands has signed an agreement for acquisition from Constellation Brands Inc. @IMartensHerald
Dave Mabell
Lethbridge Herald
Home of one of North America's top-selling brands of rye whisky, the city's Black Velvet Distilling Co. will have a new owner.
Family-operated Heaven Hill Brands of Kentucky is purchasing the Lethbridge distillery and its product lines for about $266 million (US) from New York-based Constellation Brands.
Built in the 1970s on a large 28 Street N. property, the Palliser distilling, aging and bottling facility became home to Canada's second-biggest brand in a nation of rye drinkers. Now, Black Velvet is recognized as the second-largest Canadian whisky in worldwide sales.
"We are excited to add Black Velvet to our iconic group of brands and look forward to growing this historic brand in the months and years ahead," Max Shapira, president of Heaven Hill Brands, said when the transaction was announced.
"As we continue to build our business based on strategic acquisitions and innovation, Heaven Hill's commitment to quality continues to steer the positive outlook for our diverse portfolio."
The sale is expected to close by year's end, subject to regulatory approval. There was no immediate comment from Black Velvet officials in Lethbridge.
Net sales for Black Velvet and related brands included in the transaction were reported at $67 million (US) during Constellation's fiscal year 2019.
"This decision aligns with our consumer-led 'premiumization' strategy to deliver accelerated growth and shareholder value," said Bill Newlands, chief executive officer at Constellation.
His company will now "focus our wine and spirits portfolio on higher-end, fast-growing brands."
For Heaven Hill, he said, " Black Velvet is a historic, well-known and high-volume brand that complements their broad distilled spirits portfolio and aligns with their business strategy."
Heaven Hill's diversified portfolio of products includes a number of bourbons, vodkas, gins, tequilas and rum along with various liqueurs and Christian Brothers Brandies.
Along with the Black Velvet Distilling facility, the purchase covers a further group of Canadian whisky brands currently owned by Constellation, including MacNaughton, McMasters and the international business of the Schenley brands – Golden Wedding and OFC.
Black Velvet was first developed in 1946 and introduced to the market in 1951. Its roots go back to brothers Walter and Alfred Gilbey, who entered the liquor industry in England in 1857. After opening their first gin distillery in England in 1872, they expanded to Canada in 1906.
The company's W&A Gilbey Distillery began production in 1933. It later began producing rye whisky.
The London-based IDV group – a merger between the Guinness brewing business and the Grand Metropolitan property and manufacturing company – built the Lethbridge plant before a further merger in 1997 made it part of the international Diageo group, also in London.
Canandaigua Wine, based in upstate New York, bought the Black Velvet business in 1999 before rebranding itself "Constellation" as it expanded into other alcohol-based beverages. Its subsequent Canadian acquisitions included Vincor International, maker of Jackson-Triggs, Inniskillin and other best-selling Canadian wines.
Constellation sold its Canadian wines portfolio to the Ontario Teachers' Pension Plan in 2016, more recently making a $5-billion investment in Ontario-based medical marijuana producer Canopy Growth.
Follow @DMabellHerald in Twitter