Camp prepares students for school
By Kalinowski, Tim on August 14, 2019.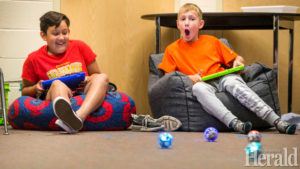 Herald photo by Ian Martens Caleb Lingrell and Ty Stang use tablets to control Sphero programable robots rolling along the floor Tuesday morning at St. Paul School as part of Frontier CollegeÕs Urban Indigenous Literacy Summer Camp. @IMartensHerald
Tim Kalinowski
Lethbridge Herald
tkalinowski@lethbridgeherald.com
At Frontier College's Urban Indigenous Literacy Summer Camp students from diverse backgrounds come together with Indigenous students to engage in learning activation activities which will help them hit the ground running when school resumes in the fall.
"It is really important because it helps reduce summer learning loss," says Frontier College community co-ordinator Jade Oldfield. "It is set up in August so kids are prepared to go back to school and are ready to learn when school goes back in September. It's part of our mandate here in Alberta to help reduce the achievement gap for our Indigenous students here in Lethbridge."
"We try to make the camp way more fun than just sitting at a desk," confirms camp facilitator and St. Paul School educational assistant Sharon Schindel, who is in her second year with the program, "but it does prepare the kids for the upcoming school year. Some of the teachers at our school were saying last fall they could tell which kids went to the camp. They were a bit more prepared and they seemed to settle in a lot faster into the new school year."
Despite the name of the camp, the Urban Indigenous Literacy program caters to more than Indigenous students, says Oldfield. Instead, she says, there is a good mix of different students with diverse backgrounds who learn together in an inclusive way in harmony with local Blackfoot teachings.
"Some of our programs are geared toward Indigenous programs," she says, "but we don't prohibit anyone from joining our programs based on any kind of (cultural) background. The best part about the Urban Indigenous Summer Camp is we have about one-third Indigenous students, one-third who would be considered lower socio-economic students and one-third ESL. The wonderful thing is because we bring in a cultural component to the camps, we have a wide variety of kids learning about Indigenous culture and their fellow students. For us, it's just about ensuring kids who need to have access to the program, have access to the program."
The Urban Indigenous Literacy Summer Camp started this week and concludes the final week of August.
Follow @TimKalHerald on Twitter