Room for growth in local value-added food sector
By Lethbridge Herald on September 10, 2019.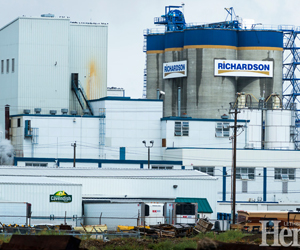 The Standing Senate Committee on Agriculture and Forestry's report Canada's value-added food sector points to the importance of creating new economic opportunities for farmers and agri-food processors. Herald photo by Ian Martens @IMartensHerald
Tim Kalinowski
Lethbridge Herald
tkalinowski@lethbridgeherald.com
The Standing Senate Committee on Agriculture and Forestry recently released a report entitled "Made in Canada: Growing Canada's Value-Added Food Sector," which speaks about the importance of creating new economic opportunities for farmers and agri-food processors amidst ongoing international trade uncertainties and declining prices by adding value to commodities coming out of the field.
"The untapped potential of Canada's value-added food sector presents an opportunity to increase national and international trade, inspire innovation and break down barriers to economic growth across the country," the report's executive summary reads. "While the food processing sector is already one of the country's largest employers, there is plenty of room to grow."
The report goes on to state that Canada exported $33.5 billion worth of processed food and beverages in 2016, but much of the Canadian agriculture sector remains raw commodity export-based. The report compares Canada's processed food exports to the Netherlands, for example, over the same period. The Netherlands, with a much smaller agricultural land base, shipped $73.1 billion in processed food and beverages in 2016.
Value-added means taking raw commodities grown in the region and turning them into locally processed consumer products rather than shipping them away to support jobs and economies elsewhere.
Martin Ebel, economic development officer for Lethbridge County, says the report's findings are not surprising, and largely supported by his own analysis of the local agriculture sector. Southern Alberta remains one of the great value-added leaders in the agri-food processing sectors in Canada, but that doesn't mean we shouldn't push for even more, he says.
"For a long time the way the region worked in terms of its agriculture, and the way agriculture was structured in Canada, and still in our existing trade patterns, things worked quite well," he acknowledges. "A lot of our product was shipped south of the border and processed there. You could export raw product and still make a good living.
"I think we are now seeing a number of factors coming together that are starting to change that equation and are shaking people out of that inertia or complacency, if we want to use that term," Ebel states. "One is uncertainty in the global trade markets. We see a number of global trade agreements being re-written, as is the case with NAFTA, or new agreements being signed with Europe. We are also trying to do new agreements with Asia, and that is running into snags. Some of the markets at one time were low-hanging fruit and easy to send to — those are kind of changing for various political reasons. It's not as easy. And consumer tastes are also changing, too."
Ebel says while there is already high levels of value-added food processing going on in southern Alberta, particularly in the potato industry, there are many more potential opportunities out there.
"I think it is a scary, disruptive time for some producers," he says, "but in the midst of all that there are opportunities for producers to add value to their product or branch out and add different crops or product lines to what they already do — and the potential to reap greater benefits from that. Absolutely we want to look at having more value-added processing in the county, and do more of it."
Not only does value-added agriculture mean opening more niche markets for local, smaller-scale producers, says Ebel, but given southern Alberta's position as a premier food production site, local producers and agri-food processors of every scale should be thinking about creating more value-added opportunities to drive the region's agriculture industry forward.
The Senate report concurs.
"Value can be added at the production, processing and marketing stages," it states, "which offers a wide range of possibilities for Canadian businesses looking to develop new products. Consumers are increasingly asserting their preferences for products that meet specific requirements, such as transparency, sustainability and safety; this trend poses a challenge for the sector, and it will have to adapt quickly.
"Nevertheless," the report concludes, "Canada has many strengths that will help it seize these opportunities and meet these challenges. The country is home to an abundance of primary agricultural products and many innovative businesses."
Ebel says there is almost no better illustration in Canada of that value-added strength and innovative spirit than you will find in the Lethbridge region today.
"You have everything from the very large value-added processors (like Cavendish and McCain) down to the smaller operations that are family-sized and everything in between," he says. "That's a misconception people have — that value-added always has to be these enormous factories and so forth. That is certainly out there, but there is a lot more out there than that."
Follow @TimKalHerald on Twitter
Leave a Reply
You must be logged in to post a comment.