Train derails near Barnwell
By Lethbridge Herald on October 11, 2019.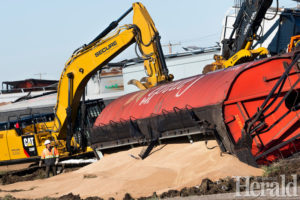 Herald photo by Ian Martens Crews and heavy machinery work to clean up a train derailment that sent around two dozen rail cars off the track Friday morning along Higway 3 at Cranford west of Barnwell. @IMartensHerald
Nobody hurt after container cars
go off track
Lethbridge Herald
No injuries were reported and there was no environmental hazard or risk to the general public, officials confirmed, following a train derailment early Friday east of Lethbridge.
By mid-morning, the Tranportation Safety Board of Canada was on site investigating the scene near Range Road 18-1 west of Barnwell where about 25 bulk container cars derailed.
The M.D. of Taber Regional Fire Service – Station 4 & 7 Taber/Barnwell sent an update on its Facebook page saying Range Road 18-1 north of Highway 3 was closed for a time. Westbound traffic on Highway 3 near Range Road 18-1 was also reduced to one lane and motorists were asked to reduce their speed.