City TRIP program spurs development
By Lethbridge Herald on October 15, 2019.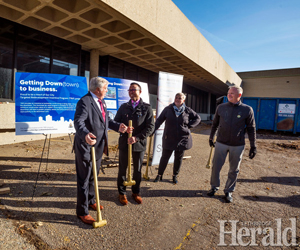 Mayor Chris Spearman talks with clinic director Sean Hantke, Heart of Our City chair Dawn Leite and Downtown Lethbridge's Ted Stilson, at the announcement for the start of construction of Six08 Health, the first downtown redevelopment project through the Targeted Redevelopment Incentive Program. Herald photo by Ian Martens @IMartensHerald
Nick Kuhl
Lethbridge Herald
nkuhl@lethbridgeherald.com
Public investment is designed to spur private investment, officials say.
A $4.8-million redevelopment project, being touted as the single biggest private investment in downtown Lethbridge in nearly 20 years, will be a big component to the next phase, they anticipate.
The first downtown redevelopment project accessing the Targeted Redevelopment Incentive Program (TRIP), a municipal tax relief program, is SIX08 Health, located at 608 5 Ave. S. The building was an old AMA location, then later an Able Dental administration office, but has sat vacant for several years.
Interior cosmetic deconstruction has been completed, with exterior work to begin within the next few weeks and the new second storey could be up in about a month. The 18,000-square-foot facility is expected to open to the public in February 2020.
When it opens, SIX08 Health will bring together a multitude of health-care professionals including massage, acupuncture, chiropractor, physiotherapy, psychology, dental, family and GI specialty medical, pharmacy and supervised child care.
Dr. Sean Hantke, clinic director at SIX08 Health, said this unified team will have the common goal of providing optimal patient-centred care within its state-of-the-art facility.
"When we were looking at where to create our new home, being part of the downtown just made sense," Hantke said during a groundbreaking event Tuesday morning, where attendees were also able to take a virtual tour of the facility via an augmented reality release of the building.
"Our business is all about building positivity and being proactive. It was a perfect fit to work with the City and bring these attributes to the downtown, making SIX08 Health a big part of the revitalization efforts. We're excited and proud to be a part of it," he continued.
"Lethbridge is growing and we knew we needed to expand to keep up. With our new space, we will be able to offer our patients 16 types of medical treatments, while providing child care for when they come for appointments."
East Meets West Health Centre was originally founded by Hantke in 2004. In 2020, they will officially rebrand as SIX08 Health.
"We are excited to welcome SIX08 Health to the downtown and to be able to get shovels in the ground, and sledgehammers through walls on our first Target Revitalization Incentive Program (TRIP) project," said Andrew Malcolm, the City of Lethbridge's Urban Revitalization manager.
"It will bring more people, more activity and more vitality to the downtown and we are optimistic it is the first of many large redevelopment projects coming to our city's core. We've seen a lot of very important public investment, in terms of the new park and ride, the 3rd Avenue project which is slated for construction to start next year — and just a lot of work that the City and the Heart of the City committee has put into the downtown over the last few years making sure that it's still clean and safe," he continued.
"We are making it investment friendly for the businesses. Now we are starting to see the private investment follow suit. We believe this is the first domino of many to fall and that things are really going to pick up in the downtown."
Lethbridge City Council approved the project for TRIP which will, for a period of time, cancel the municipal tax increase the business would have incurred after the renovations are complete. With a construction value of $4.8 million, the project qualified for a seven-year cancellation.
The annual tax cancellation is +/- $88,000 for a total tax cancellation for the project of approximately $616,000. The City benefits from this program in that, once the short-term cancellation period is over, a far greater amount of taxes are received due to the increased value of the property.
For the SIX08 Health project, the City will receive an estimated $88,000 more in annual taxes than what was being received prior to construction. This is income that will be received every year following the seven-year cancellation period.
"The City has been great to work with," Hantke said. "The TRIP policy was really kind of that incentive that we needed to solidify the decision to move this clinic downtown."
Mayor Chris Spearman reiterated council is committed to positive efforts in the downtown core.
"It is exciting for the downtown," he said. "What council wants to do is encourage investors to redevelop the downtown, take a look at some of the buildings that are here already and 'how can we maximize their potential?' We see this building and others as potential ways to revitalize the downtown."
TRIP is available for projects with a minimum construction value of $1 million. Encouraging redevelopment in the downtown will lead to greater property values and enhancements that will draw more activity to the downtown core, officials say.
Information on this and other downtown incentive programs is available at http://www.lethbridge.ca/downtownincentives.
Follow @NKuhlHerald on Twitter
Leave a Reply
You must be logged in to post a comment.