Military a doorway to a better life for Métis veteran
By Lethbridge Herald on November 7, 2019.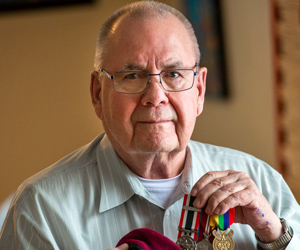 Metis Elder Roderick MacLeod served as a reserve soldier with Rocky Mountain Rangers, as well as a regular Airman and military police officer in the Royal Canadian Air Force. Herald photo by Ian Martens @IMartensHerald
Tim Kalinowski
Lethbridge Herald
tkalinowski@lethbridgeherald.com
While the history of Canadian Indigenous relations has not been a bright one for most of our history, one place Canada's Indigenous and Métis peoples have often found acceptance and have excelled is in military service to the country.
Nov. 8 marks National Aboriginal Veterans Day in Canada.
Métis Elder Roderick MacLeod says the military was his doorway to a better life for himself and his family. First serving as a reserve soldier with Rocky Mountain Rangers and later as a regular Airman and military police officer in the Royal Canadian Air Force, MacLeod found the military gave him purpose at a time when his culture was shunned and derided in broader Canadian society.
"As Métis and First Nations, we were always looked down on a lot," he confirms. "There was really a lot of prejudice in those days. Métis people were called 'half-breeds' and other things; so we didn't mention it. We weren't told not to mention it, but we sort of hid it.
"As a matter of fact, Louis Riel said before he died: 'My people will sleep for 100 years, and then our artists will awaken us.' And that's kind of what happened. They started to branch out and thrive 100 years after he died in 1885, or about that time."
MacLeod served in the RCAF from 1956-64. This was at the height of Cold War tensions with the former Soviet Union. A fact which became apparent to him when he was posted with the Canada's No. 2 Fighter Wing in Grostenquin, France, in 1957.
"We all felt those Cold War tensions when we were there," he recalls. "Canada's fighter pilots at that particular time flew more hours than any other than any air force in the world.
"There was 51,000 members in the RCAF. The army, by contrast, only had 40,000 members and the navy 19,000.
"We were 20 minutes flying time from the Iron Curtain. So where we were there was aircraft taking off day and night, and in all weather. We had two different types of fighter interceptors — the F-86 Sabre and the CF-100. The fear was the Soviets were going to fly in with nuclear bombers, and we were there to try to take them out in the air before they reached their targets."
"The Russians also liked to test us day and night in those days," he adds. "They would fly near the (NATO) borders, and Canada No. 1, No. 2, No. 3 and No. 4 fighter wings, two in German and two in France. We would be flying out to respond."
As a military police officer, MacLeod says he was extremely conscious of his role in base security at the time. They were worried about Soviet espionage, or that agents of the old U.S.S.R. could get on base to potentially conduct acts of sabotage.
"We had about 30 of us on the base, and we were on patrol day and night," he remembers. "We all felt that Cold War tension because we would be listening to the news, and things were kind of hot and heavy all the time. We all thought there was going to be a Third World War."
Looking back on it, MacLeod is relieved no war ultimately happened, and feels the large NATO presence in Europe deterred Soviet aggression as was intended.
After getting out of the military, MacLeod continued to teach cadets. But it wasn't until about 1997 that finally his military world and his Métis heritage would begin to come together for him.
"After years of sort of hiding it, it was kind of nice to be able to come out and be proud of your heritage," he recalls.
For MacLeod the long-time-coming acknowledgement of his Métis heritage came from looking back through 150 years of his family tree to rediscover many famous Métis and European ancestors who helped shape the early years of the Canadian frontier.
After embracing this history, MacLeod now teaches about Métis culture and heritage to the next generations, including through the Bold Eagle Program.
"The Bold Eagle Program is a wonderful program for Indigenous people from ages of 17-25 years," MacLeod explains. "They have to have Grade 10 or better. They must be physically fit, and have a police check. They go to Canadian Forces Base Wainwright where they receive six weeks of training. It's a basic qualification course, and, once they graduate from there, should they go into the military at a reasonable time that six weeks counts as a percentage of regular force time."
"They get wonderful training," he adds. "The first week is with Elders, and they stay with Elders right on the base in barracks, and they eat in the mess hall. They take sweats and listen to storytelling, they do smudging, and they are guided by the Elders who stay right there with them. I come in there on the last day they are there with the Elders. I do about two hours on Métis history and culture with them."
MacLeod would encourage any Métis or Indigenous youth looking for some direction or purpose in life to give the Bold Eagle Program and the military a try.
"The military life is not for everybody," he cautions. "But I think it's really rewarding. They can learn lots of different types of trades, and they come out with a pension and full medical. And, of course, they get a chance to see many different places."
For more information on the Bold Eagle Program visit http://www.canada.ca/en/army/services/bold-eagle.html.
Follow @TimKalHerald on Twitter
Leave a Reply
You must be logged in to post a comment.