Galt seeks info on storied hockey jersey
By Nick Kuhl on November 9, 2019.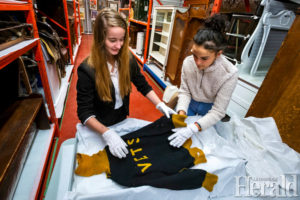 Herald photo by Ian Martens Collections assistant Kirstan Schamuhn and volunteer Erin Thibault pack up an approximately 100-year-old Vets hockey jersey for storage Friday at the Galt Museum and Archives. @IMartensHerald
Nick Kuhl

Lethbridge Herald

This hockey jersey has a storied history.
The only problem is that no one seems to know the full extent of it.
When it arrived as a donation to the Galt Museum and Archives in Lethbridge last year, even experienced staff member Kevin MacLean was skeptical of its origins. He has since verified the Lethbridge Vets were in fact a hockey team comprised initially of soldiers returning from deployments in the First World War, backed by the Great War Veterans Association.
The team even briefly featured Frank Boucher, who was stationed in  Lethbridge with the RCMP. Boucher later won three Stanley Cups, two as a player and one a coach, and entered the Hockey Hall of Fame in 1958.
Thanks to records found in The Lethbridge Herald between 1919 and 1923, the Vets are known to have played twice in the Alberta Senior playoffs, winning once, as well as once participating in the Western Allan Cup playoffs.
The jersey's donor, Harold Palmer, of Red Deer, told Galt staff that he found the jersey in a bag of old hockey stuff. It is said to have 
belonged to his father, Murray Palmer, who died in 1971.
Kirstan Schamuhn, a collections assistant at the Galt, was tasked with  cataloguing and researching the sweater.
"There was evidence that tied the sweater to southern Alberta, but not a lot of firsthand accounts or documentation to connect it to 
Lethbridge," Schamuhn said Friday morning at the Galt.
"Harold Palmer didn't have memories of the sweater, and he wasn't able to shed light on the sentimental ties or proof his father, the 
original owner, had to the sweater. There were no photos of Palmer's father wearing the sweater or of him playing hockey. There were a lot of Lethbridge Herald articles about the team, but only really in that early period between 1919 to 1923," she continued.
"The team was the pinnacle of hockey for Lethbridge at the time. A Herald article from 1920 after they won their first Amateur Playoffs said that the community was surprised that Lethbridge had a strong 
hockey presence. The complexity and importance of this story are enhanced when you add that these were veterans of the First World War playing hockey, bonding as a team, as soon as they returned home. It gives perspective into yet another aspect of their lives as veterans, and I find that incredibly special."
The Galt's collections staff continue to seek information on the Lethbridge Vets hockey team and appreciate any knowledge, photos or information on the team that may be shared by the public.
"I'm hopeful, from the collections view, that it's a hidden treasure trove and we'll get more," Schamuhn said. "But, of course, realistically, it is going to be quite a challenge, I think, to get more information considering this is around 100 years ago. First-hand accounts and memories are likely not going to be there anymore."
Follow @NKuhlHerald on Twitter
Leave a Reply
You must be logged in to post a comment.