SABRE looking for slice of Alberta's renewable energy market
By Lethbridge Herald on November 19, 2019.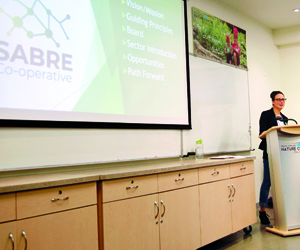 Southern Alberta Renewable Energy Co-op (SABRE) project manager Kim Welby introduces her organization at the recent Environment Lethbridge AGM at the Helen Schuler Nature Centre. SABRE launched its mission to bring new private investment into local renewable energy projects, and hopes to recruit new members to support this initiative throughout southern Alberta. Herald photo by Tim Kalinowski
Tim Kalinowski
Lethbridge Herald
tkalinowski@lethbridgeherald.com
A new renewable energy co-op, backstopped by a high-powered board, is poised to launch its drive for new members and investment capital to take advantage of the burgeoning renewable energy market in Alberta.
The soft launch for the Southern Alberta Renewable Energy (SABRE) Co-operative recently took place at the Environment Lethbridge AGM at the Helen Schuler Nature Centre.
"I think the opportunity is right," explained SABRE's project manager Kim Welby. "There has been a lot of momentum in the renewable energy space (in Alberta), and there has been movement toward a more sustainable future which reduces greenhouse gas emissions and is becoming more carbon neutral. This is occurring independent of the government steering. I think our previous (NDP) government had set up a very good framework, and even though budgets are tight with this new government, I think that there is real opportunities to be had, and these very technical professionals (on our board) see that."
SABRE's board includes Lethbridge College educator Shane Porter, environmental consultant Jessica Bekker, business owner Bill Spenceley, municipal consultant Layne Johnson and investment advisor Kevin Sassa.
"There is a real (renewable) opportunity to be had here," said Welby in explaining why her board has such confidence. "Maybe it's not a subsidized opportunity, but there is a way forward. And even though we don't necessarily see direction coming from the (UCP) government, industry is sort of saying otherwise.
"The acquisition of Solar Optics by Neu-Lite Electric is a very Lethbridge example of an industry seeing an opportunity in solar.
"The availability of our resource is what is attracting investor. We have world-class solar and wind resources here. That is a huge opportunity, and that opportunity doesn't go away with whoever is making decisions at the top. The other thing is the cost of producing the power has come down in price to a place where there is a business case to be made. The decentralized energy market in Alberta is a place where renewables have space to grow."
The numbers are clearly in favour of greater renewable energy generation in Alberta, Welby said.
Welby said SABRE was all about giving members a chance to help shape the future of power generation in southern Alberta.
"This a way for a groundswell of community members who have a few dollars kicking around that want to see something happen," she said. "We feel the co-op can act as that bridge. This is a way to spread the risk around to garner community support to have that missing piece, maybe. But first we need to get that critical mass of members. And we need to validate what we are pretty sure is out there."
"Warren Buffett doesn't make bad investments, and he has invested in a major wind project in Alberta," she added. "And other multi-nationals are also seeing the opportunity here."
For more information on the SABRE Co-operative contact Kim Welby at sabrenewable@gmail.com.
Follow @TimKalHerald on Twitter
Leave a Reply
You must be logged in to post a comment.