City strikes out with province
By Lethbridge Herald on January 13, 2020.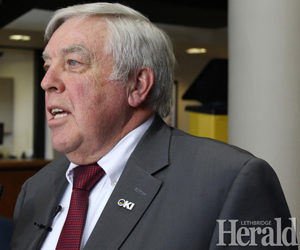 Mayor Chris Spearman reacts to news that the province will not fund low-income transit or a local Safer Communities and Neighbourhoods office of the Alberta Sheriffs in Lethbridge after Monday's council meeting. Herald photo by Tim Kalinowski
Tim Kalinowski
Lethbridge Herald
tkalinowski@lethbridgeherald.com
Mayor Chris Spearman is expressing his disappointment on behalf of city residents after receiving confirmation from the provincial government it will not be funding a SCAN unit in Lethbridge in the near future.
Spearman informed both city council members and the public at the end of Monday's council meeting that he had received a letter from Solicitor General and Minister of Justice Doug Schweitzer's office stating the UCP government would not fund a dedicated Safer Communities and Neighbourhoods Office of the Alberta Sheriffs in Lethbridge.
"Under the current budget circumstances, they can't provide an additional SCAN unit in the City of Lethbridge," said Spearman, summarizing the government's stated reasons for refusing. "That is disappointing, because we believe shutting down drug houses is an important part of the war on drugs. We put together a business case that was submitted back in October, stating that we had at any one time 12 to 14 active drug houses and about 125 properties under surveillance in the city. We offered to provide additional services if a SCAN unit were to come here, for example space in municipal buildings, to try to facilitate it."
Lethbridge currently falls under the jurisdiction of the Calgary SCAN office. The City, on the recommendation of the Lethbridge Police Service, had hoped the province would agree Lethbridge's ongoing drug crisis might warrant more dedicated attention to the issue of local drug houses.
"When you see the reaction that a drug house is closed, people automatically say they will just move down the street," explained Spearman. "Having a SCAN unit monitoring on an ongoing basis would be much more effective than having them here on an occasional basis."
Spearman said the City will continue its advocacy efforts on the SCAN issue with the hope the province may eventually come around.
"We have heard from the Solicitor General he is willing to discuss the matter further and, of course, we want to take him up on that opportunity," stated Spearman.
In addition to hearing news Lethbridge would not be getting a SCAN office, Spearman was informed by the province in another letter that Lethbridge would also receive no funding to help low-income transit users in Lethbridge like Calgary and Edmonton have already received.
"We want to make sure citizens in Lethbridge have access to the same services that are available in Calgary and Edmonton," Spearman stated, "and the low-income transit program has been available in Calgary and Edmonton for several years. We have some of the highest rates of poverty in the province; so we want to make sure families who live in Lethbridge…have access to the same sort of programs."
According to statistics referenced by the mayor's office, one in five children in Lethbridge live at or below the poverty line.
Follow @TimKalHerald on Twitter
Leave a Reply
You must be logged in to post a comment.