Horns lose tough one to Dinos in Enmax contest
By Woodard, Dale on January 11, 2019.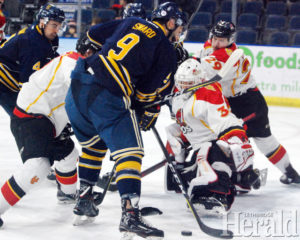 Herald photo by Dale Woodard University of Lethbridge Pronghorn Dalton Sward battles for a rebound in the Calgary Dinos crease in front of Dinos goaltender Jordan Papirny in Canada West play Thursday night at the Enmax Centre.
Lethbridge Herald
Playing in the venue in which they'll host the USPORTS championship, the University of Lethbridge Pronghorns men's hockey team was handed a close home-ice loss.
The Pronghorns were blanked 2-0 by the Calgary Dinos in Canada West play Thursday night in front of a large crowd at the Enmax Centre in which they'll be national hosts.
The teams skated through two scoreless periods before the Dinos finally found a way past Horns goaltender Garett Hughson on goals from Dane Gibson and Cain Franson – shorthanded and into an empty net – in the final 6:34 of the game.
The Dinos outshot the Pronghorns 38-17 as the Horns fall to 7-10-2-0, but remain in sixth place in the Canada West.
Both teams went 0-for-4 on the power play as the the weekend series shifts to Calgary tonight at 7 p.m.
The Pronghorns women's team hosts the Dinos tonight at 7 p.m. at Nicholas Sheran Arena.
In basketball, the Pronghorns women's and men's teams earned road wins Thursday night in Calgary.
The Horns women defeated the Mount Royal Cougars 83-59 to improve to 6-7, while the men won 108-69 for their third straight win that improves them to 7-6.
In the women's game, Kacie Bosch led the way with 25 points, nine rebounds, seven assists and five steals, while Logan Moncks also topped the 20-point mark with 21.
Danielle Fritzke chipped in with 13 points in the win.
Jessica Zarowny hauled in eight rebounds and Katie Keith, Fritzke, Moncks and Kathryn Hankins each had seven.
Zac Overwater led the Pronghorns men with 21 points and Mike Pierzchala followed with 16.
Coming off the bench, Brett Warren had 14 points and Josh Sparkes and Keanu Funa had 11 and 10 respectively.
The teams are back in Lethbridge Saturday night at the 1st Choice Savings Centre. The women's game starts at 5 p.m. with the men to follow at 7 p.m.