By Woodard, Dale on January 11, 2019.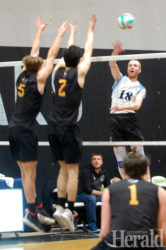 Herald photo by Dale Woodard Carter Hansen of the Lethbridge College Kodiaks goes up for the kill against Medicine Hat Rattlers Edvard Nordlund (5) and Dexter Mackie (2) in Alberta Colleges Athletic Conference play Thursday night at the Val Matteotti Gymnasium.
Dale Woodard
Lethbridge Herald
Take a look at the Alberta Colleges Athletic Conference standings and you'll see the Lethbridge College Kodiaks men's volleyball team is 13-0.
That is indeed the case after the Kodiaks blanked the Medicine Hat Rattlers 3-0 to kick off the 2019 portion of their schedule in ACAC play Thursday night at the Val Matteotti Gymnasium.
If you want, go have a glance at the Canadian Collegiate Athletic Association rankings and you'll see the Kodiaks are still ranked second in the nation.
However, like a calendar flipping over to the new year, in the eyes of the Kodiaks it's a clean slate, the team is 1-0 and still very much battling for a playoff spot.
They started off the "new season" on the right foot with 25-21, 25-19 and 25-18 set wins over the Rattlers.
"We say this semester is 0-0," said Kodiaks left side Tony Albizzati, who had 10 kills, eight digs and one service ace in Thursday's win. "The first semester doesn't count. We don't think about that at all. We go in saying this is a new semester and we're just playing like we're in last place. We don't even keep our record, we just keep going."
On the women's side, the Kodiaks forced the Rattlers to five sets, but came up on the wrong end of a 3-2 decision (26-24, 22-25, 25-17, 19-25, 7-15) to sit at 2-11.
However, like they were in 2018, the men are unbeaten thus far in 2019 as well.
"We had so much energy," said Albizzati. "Having a month off like that and that rest was needed. Having that bye week as well, we were fully ready and just set to go for this game."
They're now 1-0 as a result.
"Ultimately, it's a brand new season starting today," said Kodiaks head coach Greg Gibos. "We're all starting at 0-0 again and it's really important for us to get a good start. I thought we were a little rusty at the beginning of the match and just feeling each other out a little bit and getting back into the flow of good, competitive volleyball because we haven't played since the middle of November. So it's a big layoff."
Carter Hansen led the Kodiaks with 17 kills, while Dax Whitehead had 10. Matt Primrose had 11 digs for Lethbridge.
Leading the Rattlers was KeAndre Evans with 10 kills, while Alfred Dalevik added nine as the Rattlers sit at 7-8 and tied for the fourth and final playoff spot with the Briercrest Clippers.
Griffin Moline, Zachary Frank, Evans and Nikola Sreckovic each had five digs.
"I think one thing we'll never question is our competitive drive and our willingness to go to war for each other and I think you saw that tonight," said Gibos.
"We might not have played pretty volleyball or our best match, but the guys on the floor cared about each other and the guys really just gutted that one out and really beat a quality opponent. Medicine Hat is a great team and I think in the ACAC South it takes your best every night to win and we were lucky that maybe we didn't have our best skill, but we really went after it with a great crowd. Basketball was here supporting us again and they've done that for us a lot. So we really appreciate everything the Kodiaks family does for us."
In the women's game, Mackenzie Lewicki had 11 kills and 16 digs for the Kodiaks and Laura Serafini had 10 kills.
Andie Curran and Carley Doneff had 15 and 11 digs, respectively, for Lethbridge and Jamie Brown added 10.
For Medicine Hat, Janelle Neyron had led the way with 20 kills and Amber Stigter put up 15.
The teams are in Medicine Hat for the rematch Saturday. The women's game is at 1 p.m. with the men to follow at 3 p.m.