By Woodard, Dale on February 1, 2019.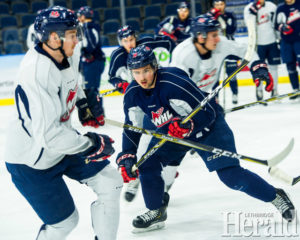 Herald photo by Ian Martens Taylor Ross, alongside Zach Cox, skates in a drill during practice Thursday as the Lethbridge Hurricanes get set to host the Red Deer Rebels Friday at the Enmax Centre. @IMartensHerald
Dale Woodard
Lethbridge Herald
The Lethbridge Hurricanes will look to serve up a little home cooking over the course of the next week.
That starts tonight when the Canes host rival Red Deer Rebels in Western Hockey League play at 7 p.m. at the Enmax Centre.
Tonight's game is the start of five in a row with the Swift Current Broncos coming to town Saturday, followed by the Regina Pats on Tuesday and Moose Jaw Warriors next Friday before completing the homestand the next night against the Kootenay Ice.
With a Central Division that's remaining as snug as ever heading down the stretch, the Canes hope to keep the home fires burning with some crucial points.
Heading into tonight, the 25-14-4-4 Hurricanes are tied with 27-17-2-2 Medicine Hat Tigers who have gone 7-2-1-0 in their last 10 games.
One point ahead of those two teams is tonight's opponent with the Rebels sitting at 28-16-2-1, three points behind the Central Division-leading Edmonton Oil Kings (27-15-4-4).
Meanwhile, the Calgary Hitmen are four points behind the Canes and Tigers and have won four in a row.
"We've really got a bear down in practice and watch the video so you know what all the teams have," said Hurricanes defenceman Calen Addison. "At the end of the day it's such a tight division."
The Hurricanes are coming off last weekend's U.S. road swing where they snagged two of six available points.
It got off on a winning note with a 4-3 win over the Seattle Thunderbirds, but quickly unravelled Saturday when the Everett Sivertips lit up Lethbridge with six second-period goals on their way to a 9-1 win.
On Sunday in Portland, three second period goals were enough to pace the Winterhawks to a 3-0 win over the Canes.
"I think we were pretty happy with our effort in Seattle," said Addison, who leads Hurricanes blue-liners with seven goals and 45 points this season. "We showed how to close out the game and how to get a tight win. But the game in Everett is definitely not one we're happy about, but I think we played pretty well on Sunday, but we didn't get the bounces in the outcome that we wanted. But I think we have a lot to build off of, we had a good week of practice."
The Rebels have gone 6-3-1 in their past 10 games and are coming 4-0 loss to the Brandon Wheat Kings Wednesday night in Brandon.
They are led by Brandon Hagel, who has 30 goals and 74 points in 46 games. Rebels centre Jeff De Wit has 24 goals in 46 games this year.
Tonight the Canes will look to play a little leapfrog in the tight standings.
"It's going to come right down to the end and we have to really buckle down in the last little stretch," said Addison.
The Tigers are in Moose Jaw tonight to face the Warriors.
Follow DWoodardHerald on Twitter
Leave a Reply
You must be logged in to post a comment.