Professional pointers
By Lethbridge Herald on February 12, 2019.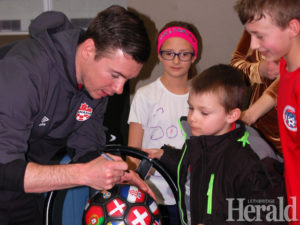 Herald photo by Dale Woodard LethbridgeÕs Nik Ledgerwood signs a soccer ball for seven-year-old Colin Menard Sunday afternoon at the Servus Sports Centre. Ledgerwood, a member of the Cavalry FC of the new Canadian Premier League was in Lethbridge for a training session and question-and-answer period.
Lethbridge's Nik Ledgerwood holds training session at Servus Sports 
Centre
Dale Woodard
Lethbridge Herald
sports@lethbridgeherald.com
The time is now to be a young soccer player in Lethbridge.
Boasting a stellar international career that has brought him back to 
Alberta soil in Calgary, Lethbridge's Nik Ledgerwood was at the 
Servus Sports Centre Sunday afternoon for some one-on-one training 
sessions with the up-and-coming local talent that also included a one-
hour question-and-answer session.
As he gets ready for his first season with the Cavalry FC of the new 
Canadian Premier League, the 34-year-old said there's plenty of high-
profile soccer to strive for for young players.
"I think now there are going to be a lot more opportunities for these 
kids with a professional team coming to Calgary and Canada hosting the 
World Cup in 2026," said Ledgerwood, who has 50 caps for Canada at 
the international level. "This is the age group where, in eight or 10 
years, you might see a Lethbridge boy playing in the World Cup. How 
awesome would that be?"
On Sunday, Ledgerwood did his part to help put some local talent on 
that path with five different sessions on the pitch.
"My thing was to just give them something they normally don't get 
with their coaches, so some different patterns," said Ledgerwood. 
"I ran all the sessions basically the same. We started off with a 
little bit of passing and working on opening up and playing with the 
right foot and playing with the left foot. Then we went to possession 
and we ended it with a fun game at the end. So it wasn't very 
complicated, but just different coaching tips along the way to help 
kids. I know it's hard because these coaches are volunteer coaches. 
They're not paid to be here. By all means, they don't need to put 
in the extra effort, which a lot of them do and a lot of them are 
great coaches. But from the kids perspective if you see a professional 
athlete come, it gives you a little more incentive. I had a great time 
and I'll try to do it as often as I can on how it works out in the 
schedule."
After the training sessions, the proceedings moved upstairs to the 
lounge where Ledgerwood fielded questions from players and parents 
alike.
"As much as it is informative for the kids, the parents thrive on it 
as well," said Ledgerwood. "So I think any chance that I get to 
come back to Lethbridge, being in Calgary, I'll do it. It's not a far 
drive. I came down two weeks ago and did the same thing."
After Sunday's clinic, it was right back to Calgary as Ledgerwood 
prepares for a new season with his new team in a new league.
In November, Ledgerwood along with Sergio Camargo were announced as 
the first signings for the Cavalry.
"Our season starts March 1 with the preseason. The first games are in 
the beginning of May and go through until October," said Ledgerwood, 
who played with Calgary Foothills last season and FC Edmonton two 
years prior. "It's exciting. Everything is starting from scratch, 
which is hard to build a team and a fan base, but they've done an 
exceptional job."
"They're building a stadium in Spruce Meadows and it's going to 
be a 6,000-seat stadium, soccer specific. There are going to be seven 
teams across Canada for the first year and there's a rumour there's 
going to be another four teams come 2020 and they're just going to 
keep building the league and making it sustainable."
As he fielded questions about his professional career that took him 
overseas and began in July 2003 with 1860 Munich of the German Second 
Bundesliga, Ledgerwood recalled his formative years training in his 
home town.
"A lot of the training sessions I had with Lethbridge Croatia, my 
neighbour, Kris Indzeoski, played. So he would drive me to practice," 
he said. "We had Johnny Dudas as a coach and now his daughter (Kristy 
Lauzon) is helping organize some of the stuff here. Just those 
memories of having a men's team accept a 14-year-old to come train 
with them. I matured quick and learned a lot of great stuff from them. 
But that's probably one of my biggest memories growing up in 
Lethbridge."
Follow DWoodardHerald on Twitter
Leave a Reply
You must be logged in to post a comment.