By Woodard, Dale on February 26, 2019.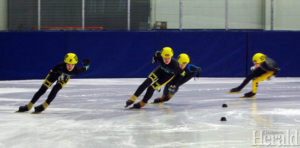 Herald photo by Dale Woodard Mikka Eaves (left) and Preslee Muller of the Lethbridge Speed Skating Association round the corner during the second day of the Lethbridge Bridge Bolt Sunday afternoon at the ATB Centre.
Dale Woodard
Lethbridge Herald
For Riley Vanderburgh, Preslee Muller and the rest of the members of the Lethbridge Speed Skating Association, last weekend's Lethbridge Bridge Bolt was a chance to compete on home ice.
Local skaters did just that at the two-day event at the ATB Centre, but Vanderburgh and Muller couldn't help but looking a couple weeks ahead and a little farther north to the Canada West Short Track Championships in Grande Prairie March 23-24.
For both skaters, it'll be a return trip.
"If I'm lucky I can make it to the Can West. I made it last year and hopefully I can make it again this year," said Vanderburgh, 14, who competes in the 2T2 12-13 division. "It was fun. It was a really good time. I didn't do too well, but that's why I want to make it this year and do a bit better."
For Muller, the Lethbridge Bridge Bolt was her first event of the season.
"I haven't really been practising that much this year. So it's actually my first of the year," said the 14-year-old.
Her speedskating schedule has been light this winter, but like Vanderburgh, Muller nonetheless had Canda West berth on her mind.
"If I qualify for Canada West I will go there," she said. "I have to get a good time and be the top in my age group. I missed the first qualifier, so this is my only chance to get a good time."
But Saturday and Sunday was about racing at home, even if it didn't start the way Vanderburgh would have liked.
"I fell in the first race pretty hard. But otherwise I'm doing fine just having a good time," he said, noting home-ice advantage. I like it a lot. It just feels so much better to be skating in Lethbridge."
The Lethbridge Bridge Bolt was Muller's first event of the season, but Vanderburgh has been keeping busy.
"It's been going pretty good. I've been to Edmonton and Calgary and up into the Rockies, so all over the place. I've usually been about the third or fourth," said the athlete who brings nearly eight years to the oval. "I tried hockey and figure skating and that wasn't my thing. I tried this and just fell in love with the sport. Honestly I love the speed of it and everybody off the ice or just good friends. It's a really inviting sport to do."
Boasting an impressive speed skating resume of her own, Muller, who competes in the T2T 14 division, enjoys the individualistic aspect of the sport.
"It's a single sport, it's all on you. It's not a team sport so I just enjoy that aspect of it."
She hopes that will send her north next month for another Canada West race.
"It's really fun, I really enjoyed it," said Muller. "I got my first individual medals for Canada West. I got a silver in the 3K so I actually did pretty well. I hope to do well again."
Follow @DWoodardHerald on Twitter