By Woodard, Dale on April 3, 2019.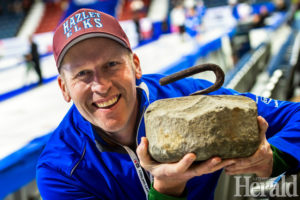 Herald photo by Ian Martens Dave Fletcher, LCI teacher and event volunteer, shows off his centuries old family heirloom curling rock during the World MenÕs Curling Championships at the Enmax Centre. @IMartensHerald
Dale Woodard
Lethbridge Herald
You won't see this particular rock sliding down one of the sheets at this week's Pioneer Hi-Bred World Men's Curling Championships at the Enmax Centre.
You won't see it being timed by a player nor will you see it as part of some impressive raise, triple-takeout from the field of world-class men's curling talent that leaves the crowd breathless.
But make no mistake, this particular chunk of curling history has made the rounds at this year's world championship, and judging by the numerous photo ops, has duly impressed those who have seen it.
The artifact in question is an heirloom of Dave Fletcher's family paying homage to his Scottish roots in the form of a curling stone known as the Roddick Rock, which made its way to North America in the 1700s when the family emigrated from Scotland.
"Every Scottish family would have two stones," said Fletcher Monday during the evening draw of the world championships where he's working as a volunteer.
So when you went to curl, you would take your stones with you, you curl with your stones and take them home. So they figured if they were going to leave Scotland they were going to take their curling stones. (So) they took them across the ocean."
As United Empire Loyalists, the Roddicks fled the United States during the American Revolution to Canada, bringing the two stones with them.
"Eventually one of them broke apart, so then they had the one stone and it became a family heirloom that we kept passing down," said Fletcher.
Through the generations, that remaining stone stayed in Ontario, ultimately ending up in the hands of Gordon and Catherine Reidt, distant relatives of Fletcher's in Pickering, Ont.
When Fletcher's son, Jackson, won high school curling provincials with LCI two years ago, the seed was planted for the rock to come out west.
A visit from Fletcher's parent's, Jim and Deb, with the Ontarian relatives during a cross-Canada jaunt also helped.
"We had no idea it existed," said Fletcher. "It was such a beautiful gesture from this family that, honestly, we hadn't even met. It's my mom's cousin. It was so neat because mom and dad didn't know they had this rock. They got to chatting one night and for them just to say 'You have a son and a grandson in curling?' They looked at each other and left the room, whispered for a bit and came back with this rock. It was meant to be, they gave it in person."
Then Fletcher's parents took the heirloom out west and gave the father and his son a family history lesson.
"Mom and dad came back after their cross-Canada tour and said 'We have something we need to tell you about,'" said Fletcher. "They told us the whole story and then they brought the rock out. It's amazing. You think about some French families who might have a piece of the Bastille and that's their families legacy of their french connection. For us to have this little bit of Scotland in our house just makes us feel so much more connected to the grand story of curling itself, but also our Scottish roots."
Since then, Fletcher and Jackson have taken the Roddick Rock to plenty of high-profile curling events.
Kevin Martin and Rachel Homan are among the high-profile rock throwers who have had photo ops with the stone.
This week, members of Russia, the Netherlands, U.S., Sweden, Canada and, of course, Scotland have posed with the stone.
Martin even played the role of historian with the family heirloom.
"He investigated and looked at it and said it's the second-oldest rock he's ever seen," said Fletcher. "The only one he's seen that he thinks is older is on the Plains of Abraham after the battle of the English and the French. They cut cannonballs in half and they curled during the winter. So he thinks those are probably the oldest. But these would actually be pretty close because they are from the 1700s."
The rock is a chunk of granite.
"Definitely not the same dimensions of curling rocks today," said Fletcher. "It's a little chipped up and banged over the years. The running surface is completely the entire bottom section of the rock and the hitting surface is the entire side wall, so it's radically different from the curling rocks we see today."
Fletcher said the goal is to get the Roddick Rock to more high profile events before passing it on to the next generation.
"One day we'll keep the rock going on its journey down the family line."
Follow @DWoodardHerald on Twitter