Hansen steps down as 'Horns coach
By Kuhl, Nick on June 28, 2019.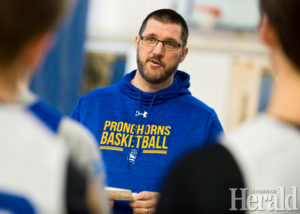 Herald file photo by Ian Martens University of Lethbridge Pronghorns menÕs basketball head coach Mike Hansen has announced he is stepped down from the position. @IMartensHerald
Nick Kuhl
Lethbridge Herald
The University of Lethbridge Pronghorns men's basketball team is looking for a new head coach.
After six seasons as head coach, Mike Hansen has chosen to step down from the position, Pronghorns Athletics announced Thursday.
"I want to thank everyone at the University of Lethbridge for the opportunities that I have been given," Hansen said in a news release.
"It was a very difficult decision to resign from coaching men's basketball, as I truly love my players, but ultimately spending more time with my family is just too important. I want to thank all of the players and assistant coaches that I have had the opportunity to coach and work with. I love all of you.
"Also, thank you to the many alumni that I have been able to build relationships with. Your spirit and pride in Pronghorns basketball are a huge asset to the long-term success of the program. I am excited to stay a part of the U of L program as an alumni and will continue to take pride in being a Pronghorn."
Hansen was named the 10th head coach in the program's history in March 2013 and helped return the program back to Canada West prominence, qualifying for the post-season in five of his six seasons.
In 2018, the men's basketball team advanced to the program's first Canada West semifinal appearance since the 2000-01 season. This past season, the Pronghorns finished with a 12-8 record, advancing to the Canada West quarter-finals.
During his tenure, he compiled a conference record of 71-51. Hansen will leave the program second on the coaching wins list, behind only Dave Crook's 109. Hansen played for the Pronghorns under Crook during the 1990s, suiting up for 74 career games before graduating from the University of Lethbridge after the 1994 season.
"Coach Hansen's leaving ends one of the most impressive coaching tenures here in Pronghorn Athletics," said Ken McInnes, Executive Director of Sport and Recreation, in the release.
"Mike's passion for his student- athletes and the love of the game was on display in everything he did. They say the mark of a professional is leaving the program better than he found it and by every measure Mike has been one of the great ones. We will have to work hard and aim high for his replacement."
The search for a new head coach will begin immediately.
Follow @NKuhlHerald on Twitter