Crowsnest course gets major facelift
By Kuhl, Nick on July 17, 2019.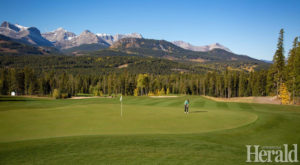 Herald photo by Brian Hancock A golfer lines up a putt on the Hole No. 9 green as seen from the new clubhouse area at Crowsnest Pass Golf Course.
Brian Hancock
Lethbridge Herald publisher
I had the chance to play at the newly redesigned Crowsnest Pass Golf Course last week as part of their media day.
If you've ever played there before you can forget everything you knew about the course, to call it a redesign really doesn't do it justice. It is a completely new golf course with some of the best mountain views you will ever experience.
Four years in the making, the new course features nine brand new holes, a new irrigation system throughout, a new three-tiered driving range and new clubhouse (completion fall 2019) that has views over the new ninth hole (built coming up the former driving range).
Don't let the view from the highway confuse you, the holes you can see from the road are no longer in play. While the new course is open for play right now, there are some temporary "fills" in place. The old clubhouse is being used until the end of the year (access road to new clubhouse is under construction), old hole No. 1 has been converted to a temporary driving range, and the old No. 18 green has been converted to a practice area.
Don't worry about any of this, the entire new course is hidden away from the highway now, and it's a hidden treat.
If there was a negative about the old course, with all due respect, it was that it may have been too tough for some average golfers to enjoy. Very hilly, tough greens and long carries over waist deep hazards required "all or nothing" shots that many golfers found frustrating.
Those days are gone.
The new layout offers wider fairways and safer landing zones from a multitude of tees for every level, yet still maintains a great challenge for lower handicappers looking for a great mountain golf experience.
Prices haven't changed despite the major overhaul. Weekday green fees are $78 including cart, while weekends are $96. But if you can sneak away on a Tuesday it's only $56 including cart. These are some of the lowest rates for a true five-star mountain golf experience.
Crowsnest Pass GC used to be the course you drove by on your way to play in Cranbrook and Kimberley. If you do that now, you've missed out on one of the best courses in the valley.
Stop in and play and you may just stay another day to play again. Their marketing slogan says it's "Naturally Rewarding" and after playing it I know exactly what they mean.