By Yoos, Cam on August 13, 2019.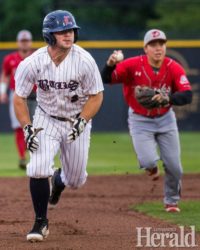 Herald photo by Ian Martens Lethbridge Bulls' Ashton Roy looks to escape being caught in a rundown under pressure from Okotoks Dawgs' Ricardo Sanchez during Western Canadian Baseball League playoff action Monday night at Spitz Stadium. @IMartensHerald
Dale Woodard
Lethbridge Herald
It wasn't always pretty and it took a while, but the Lethbridge Bulls will play for another day.
Needing a win to keep their Western Canadian Baseball League post-season run alive, the Bulls did just that with a 5-1 win over the Okotoks Dawgs in Game 2 of the teams' best-of-three Western Conference final series Monday night at Spitz Stadium.
The win comes after a crushing 6-5 walkoff loss to the Dawgs in Game 1 Sunday night in Okotoks.
But on a cold, drizzly Monday night when the Bulls were tagged for five errors – three at shortstop and two at second base – Bulls pitcher Dylan Emmons came in on one day's rest and took over for starter Tevin Hall in the fourth inning, throwing six scoreless innings, walking two and striking out eight in a four-hit performance.
That not only took the heat off the bullpen, it also opens the door for Bulls' Ben Erwin to get the start in the deciding Game 3 tonight in Okotoks.
"Our plan was to go three (innings) with Hall, three with Emmons and three with Erwin just to get to tomorrow and we'll figure out the pitching then," said Bulls coach Jesse Sawyer.
"Emmons was unbelievable. He threw 96 pitches on one day rest and threw six scoreless innings. I can't say enough about the kid. He came to me today and he wanted to start and we decided we were going to go a little bit different. Unbelievable."
The Bulls loaded the bases with one out in their half of the first and took a 1-0 lead when Riley Jepson scored on a sacrifice fly from Torrin Vaselenak as the ball skipped past Dawgs' catcher Gavin Logan.
The Bulls took a 2-0 lead in the bottom of the second when Dylan Borman laced a single to right field to score Jaret Semeniuk from third. But some miscommunication on the base path resulted in Kaleb Warden getting tagged at home on a rundown. Ashton Roy rounded second and headed for third, only to find Warden on third, creating a little havoc on the bases.
The Dawgs made it 2-1 in the third when Jacob Melton doubled with one out and scored on a single from William Hollis.
A two-out rally put the Bulls up 4-1 in the third inning when Hank Forrest sent a double to left field that scored Robert Bostedt and Semeniuk. The play at the plate on Semeniuk was close, but the throw home was high as Lethbridge took a three-run lead.
"I was honestly just trying to put bat-on-ball," said Forrest. "I haven't had a lot of success lately and every at-bat matters right now. I was just hoping to get a good pitch and he managed to give me one."
The Bulls loaded the bases for the fourth time as Warden walked, ending Dawgs' starter Nick Vicker's night as reliever Matt Wilkinson came in.
Lethbridge went up 5-1 in the next at-bat as Forrest scored on a wild pitch.
The Dawgs loaded the bases with two out in the fourth inning, but Emmons struck out Jacob Melton and induced a flyout to right field off the bat of Hollis to end the threat and keep Lethbridge's 5-1 lead intact.
The Dawgs loaded the bases again with one out in the eighth, but Emmons was able to send Melton down on strikes before Hollis flew out to deep right field. Okotoks left 15 runners stranded through eight innings.
"I showed up at the ballpark today and I knew I wanted to pitch," said Emmons. "Right after the first inning I told them I was going to finish the game. I was feeling really good tonight. I know I pitched 100-and-some (pitches) two days ago, but I was just feeling good."
For that, the Bulls will play for at least one more game.
"It was a hell of a ball game, it was a battle," said Sawyer. "We came out and played some very poor defence, but our pitchers got us out of a few jams. The hitters came out of the gate hot. It was not the best night to play baseball, but we found a way to get it done and I'm just so proud of the boys right now. After (Sunday) night, to come back and beat them 5-1 is just a great accomplishment."
Forrest said Emmons' outing spurred on the rest of the dugout.
"For us hitters it fires us up because we know they have our back like we have theirs. Also, it gives us the rest we need in our bullpen right now, which is going to be huge.
"We were so low on pitchers and so low on players that we had to have it from all sides of the game, hitting, pitching and right now we're just putting all sides together, it just seems like everything is clicking right now," said Forrest. "Our pitchers are on fire and everything is working right now."
They'll take that back to Okotoks tonight.
"Oh, I'm pumped," said Forrest. "If we get some good weather they'll have a good crowd, it'll be a lot of fun."
The Bulls outhit the Dawgs 7-6.
Roy was 2-for-4 for the Bulls lone multi-hit game.
Hollis was 2-for-5 with an RBI and Liam Rihela was 2-for-3.
Vickers took the loss for the Dawgs, going two and two-thirds innings and surrendering five runs on five hits, walking eight and striking out two.
Wilkinson threw five and one-third innings, allowing two hits, walking two and striking out seven.
Game time in Okotoks tonight is 7:05 p.m.