By Woodard, Dale on August 26, 2019.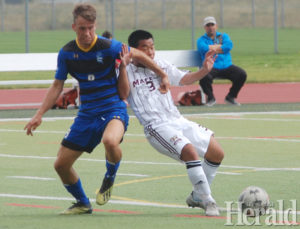 Herald photo by Dale Woodard University of Lethbridge Pronghorns forward Benjamin Kutas battles for the ball against MacEwan University Griffins defender Michael Ho in Canada West play Sunday afternoon at the University of Lethbridge Stadium.
Dale Woodard
Lethbridge Herald
The game between the University of Lethbridge Pronghorns men's soccer team and the MacEwan University Griffins Sunday afternoon was delayed by lightning.
The real jolt, however, came a little later.
The Horns and Griffins duelled to a 2-2 tie in Canada West play at the University of Lethbridge Stadium.
However, after the Griffins jumped out to a 2-0 lead a little over 20 minutes into the game, it looked as though the Pronghorns would be grounded with an 0-2 weekend following a 2-1 loss to the Alberta Golden Bears Friday night at the U of L Stadium.
But after some lightning in the area prompted a roughly one-hour delay it was the Horns who struck late for an electric ending. Danilo Morales scored in the 86th minute and Benjamin Kutas added the equalizer a little over two minutes later to shock the Griffins and secure Lethbridge a point.
"It's almost like we slept-walked the first 25 minutes," said Pronghorns head coach Randy Bardock.
"The lightning gave us a break and gave us a chance to regroup. When this group decides to be aggressive in their mindset and believe in what they can do, you can see what they can do. We won all the balls that we weren't winning in the first half and we were putting them under pressure and forcing them into making mistakes. We've got to sell out every day and when we do, you're going to get that result."
The Griffins put that result in jeopardy early as Stefan Gajic scored 16:07 into the game. A little over three minutes later it was 2-0 Michael Enes turned and fired a long shot past Horns goaltender Matthew Vandervoort.
After the delay, Griffins carried the 2-0 lead into the second and had a couple glorious chances to add to their lead.
Everett Orgnero had an in-close chance, but Vandervoort stepped up to make the point blank save.
Later, Joseph Abrahart was able to walk in down the left side, beating Vandervoort, but not the left post as the ball rocketed off the bar and out of play.
Then with time ticking down the Horns went to work as Morales capitalized on a Griffins turnover and beat MacEwan netminder Seth Johnstone to cut the lead to 2-1.
"I think any time you score you get a big boost," said Bardock.
"But we had created a few chances. We had some great balls in the box and we didn't have guys in or we had guys in and we had poor balls played in. That was just kind of a culmination, then we just feed off it and it was huge."
With the U of L crowd buzzing, the Pronghorns netted the equalizer as Kutas was the beneficiary of a loose ball and a wide open net after a shot from Deepak Bains. Although he was right in front of the yawning cage, Kutas shot high, but kept it under the cross bar for the game-tying goal.
"I just saw Deepak coming in," said Kutas. "He tried to shoot it, the rebound was there and I just had to put it in. The boys were watching and everybody was cheering the whole game, it just had to go in. It was a little dramatic, but I'm just happy for the goal."
The Pronghorns outshot the Griffins 7-6 as Vandervoort made four saves.
MacEwan had nine corner kicks compared to Lethbridge's two.
"We're a very young group and our mandate with them every time is 'Can you better every day?'" said Bardock. "Even after the lightning break we said 'Can we be better?' and we were way better. We just have to keep going as a group. That's huge for us."
The break caused by the weather proved beneficial for the Horns.
"When we had that break we had a big speech about this team has to be different than last year and played like a bunch of warriors at the end," said Kutas. "We just have to keep bringing that on to the next game. If we play like this, why don't win them all?"
As they head to Calgary in two weeks to take on the Calgary Dinos and the Mount Royal Cougars, the message has been sent.
"Now it's there," said Kutas. "We're going to bring it into the next game who knows what's going to happen? Maybe we're going to win every single game."
NOTES: The already-young Pronghorns team just got a little younger over the weekend. On Friday night against the Golden Bears, fifth-year defender Marcus Menzies dislocated his shoulder while diving for a ball and is out for the year.
Follow @DWoodardHerald on Twitter