University of Lethbridge Pronghorns women's basketball have been here before
By Lethbridge Herald on February 14, 2020.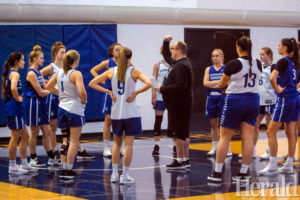 Herald photo by Dale Woodard - University of Lethbridge Pronghorns women's basketball head coach Dave Waknuk addresses his team during practice Wednesday afternoon at the 1st Choice Savings Centre. The Pronghorns host the UNBC Timberwolves in a Canada West play-in date tonight at 6 p.m. at the 1st Choice Savings Centre.
Dale Woodard
Lethbridge Herald
sports@lethbridgeherald.com
The University of Lethbridge Pronghorns women's basketball team has been there and done that.
However, they want to do it again.
The Horns get a home playoff date as they host the UNBC Timberwolves in a one-game Canada West play-in tonight at 6 p.m. at the 1st Choice Savings Centre.
After a memorable run to the final-four last year — which also started with a home play-in date — the Pronghorns look for a similar run starting tonight.
"I just remember it being so fun and being the underdogs for all of those games that we did win," said Pronghorns fifth-year guard Kacie Bosch, whose team went on a five-game winning streak to finish the season at 11-9 and grab the home date. "It's a big deal and this is the time of the year where it's the most fun because we really have nothing to lose at this point and we just get to enjoy each other on the court and hope that leads to a few more wins."
Last year, the Horns beat the Manitoba Bisons 99-60 at their play-in game at the 1st Choice Savings Centre and then headed to Edmonton, where they swept the Alberta Pandas 2-0 in the quarter-finals. However, the memorable run ended in the final-four with consecutive losses to the Saskatchewan Huskies, including a close 78-72 loss in the deciding game.
"I think there is a lot of mention of it because a lot of the core was here from last year," said Pronghorns head coach Dave Waknuk.
"I think it just becomes confidence because we went through the process last year and everything was so unknown. Everything was so new. What does a play-in game look like? What does a play-in game at home look like and how important is that? So we know this stuff this year. Now it is familiarity with what's ahead, so I think it helps us relax in our preparation. It's not an unknown. So now it's like a quiet confidence that grows within the team because we know what is ahead and what we can handle when we go ahead."
That starts at the tip-off tonight against the Timberwolves, who were also 11-9 in the regular season.
"We're all excited to play one last game at home," said Bosch, who has averaged 16.6 points-per-game this season. "We weren't 100 per cent sure if we were going to be able to, so to get those two wins last weekend to make sure that we were going to be able to host was a big deal."
Asnate Fomina has averaged Asnate Fomina points-per-game for the Horns, while guard Jessica Haenni averaged 11.9 points per game in her first rookie season.
The Timberwolves are led by two of the three top scorers in Canada West.
Fifth-year guard and Spanish international Maria Mongomo lead the conference in scoring this season with 20.1 points per game, adding 9.8 rebounds per game. Prince George product Madison Landry finished third in Canada West scoring with 19.1 points per game.
"So we are going to have to shut those girls down and we are going to have to put the ball in other players hands for the Timberwolves and hope the scoring chances are limited for those people because Maria and Madison are very good players and they are really going to be the key for them," said Bosch.
As well, the Timberwolves come to Lethbridge on an eight-game winning streak.
So tonight, the stingy team defence Waknuk has stressed all season long will come to the forefront.
"We've been talking defense all year long and I think our team defense has been getting better," he said. "So it's trusting our defense of ability to realize we don't have to go to a few scorers one on one, we can go to them as a team and we have to do it with team defense. Offensively, we still have to control the tempo. I think it is all going to be about pace of play. They are a different style of tempo than we are, so I think it's us controlling that a little bit offensively."
The winner of tonight's game will advance to play in the Canada West quarter-final next Thursday in Calgary or Saskatoon, also a one-game winner take all scenario.
Follow @DWoodardHerald on Twitter
Leave a Reply
You must be logged in to post a comment.