By Lethbridge Herald on February 29, 2020.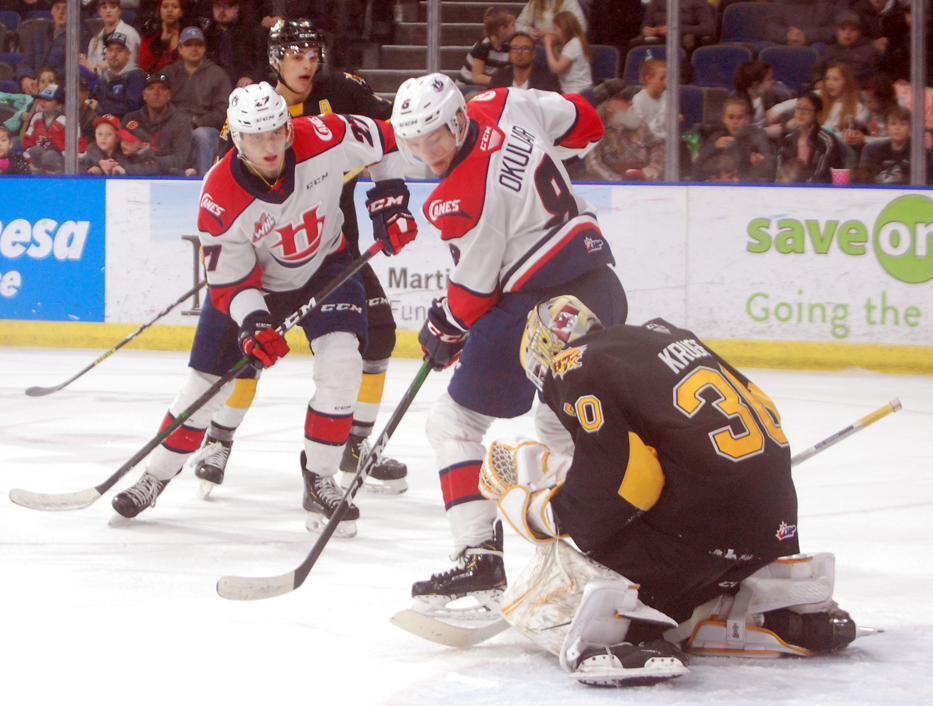 Dale Woodard
Lethbridge Herald
A second dramatic comeback in as many night wasn't in the cards for the Lethbridge Hurricanes.
The Canes were downed 4-3 by the Brandon Wheat Kings in Western Hockey League play Saturday night at the Enmax Centre.
Wheat King Marcus Sekundiak broke a 2-2 tied after the second with his ninth of the season 6:23 into the third period and with Hurricanes defenceman Trevor Thurston cooling his heels on a four-minute double minor for slew footing, Cole Reinhardt scored his 31st of the season that also doubled as the game-winner.
Hurricanes co-captain Dylan Cozens scored all three Hurricanes goals including his hat trick marker with 2:17 to go, but it wasn't enough as Lethbridge falls to 26-16-2-5.
Lethbridge product Ridly Greig and Connor Gutenberg scored in the second period for Brandon. Greig added an assist on the game-winner and earned second-star honours as the Wheat Kings move to 34-21-4-2 and four points behind the East Division-leading Prince Albert Raiders.
The loss for the Hurricanes comes 24 hours after a dramatic 5-4, come-from-behind shootout win over the Central Division-leading Oil Kings Friday night at the Enmax Centre.
On Saturday, another rally fell short.
"We weren't very good tonight and didn't have much going. They were the better team. They deserve to win and they came out on top," said Hurricanes head coach Brent Kisio, whose team will complete three games in as many days when they head to Calgary Sunday to tangle with the Hitmen. "We just have to get re-focused. Our energy level wasn't where it had to be tonight. We looked tired and disinterested."
Cozens, who now has 36 goals on the year, opened the scoring 6:22 into the game for a 1-0 lead after 20 minutes.
Greig and Gutenberg paced the Wheat Kings to a 2-1 lead in the opening 9:44 of the second before Cozens struck for his second of the game midway through the second stanza to tie it after 40 Sekundiak and Cole Reinhardt then put the game out of reach in the first half of the third period.
"I thought we had a slow start and then got going in the second," said Greig, who now has 24 goals and 57 points in 54 games with the Wheaties this season. "We got going and we took over the game a little bit. And the third we got some help with a couple of calls and took over on the power play and that always helps. So it was a good two points."
The Canes look to make it a 2-1 weekend Sunday in Calgary and continue to chase the Oil Kings for first in the Central Division.Edmonton blanked the Red Deer Rebels 4-0 Saturday night in Red Deer to improve to 41-10-6-4, 13 points clear of the Canes for first in the Central."Obviously it was a high-emotion game (Friday) night in a packed rink and I think we are just living on that a little too much and maybe took Brandon a little bit too lightly," said Hurricanes defenceman Koletrane Wilson. "But the positive is it's a short memory. We have Calgary (Sunday) which is a big game, so we should be fine."
Thomson stopped 34 of 38 shots, including a highlight reel stabbing glove save off of Luka Burzan in the third.With the Canes down 3-2 late, Thomson also turned aside Gutenberg on a breakaway chance
"Unbelievable save," said Kisio of the glove save that briefly went under video review to make sure Thomson's glove wasn't over the goal line. "He gave us a chance and he did his job. He stopped some breakaways. It was an unbelievable save there, but we didn't care enough in front of him."

Wilson was confident for a bounce-back in Calgary Sunday.
"It should be easy, it's a playoff mentality, obviously, like (Friday) night," he said. "We should've been ready for tonight and this would've been a Game 2 and I guess we have to treat it like that (Sunday) as well. We're going into Calgary, which is a tough barn to play in, but it's a team we can possibly see in the first round so we have to play hard with the playoff mentality."

The Hurricanes were 0-for-3 on the power play Friday night, while the Wheat Kings were 2-for-7.
Wheat Kings goaltender Ethan Kruger stopped 26 of 29 shots.
Saturday's announced attendance was 4,251.