March brings attention to murdered, missing Indigenous women
By Lethbridge Herald on February 14, 2020.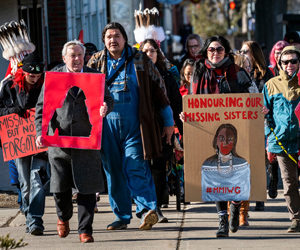 Participants make their way through the city's downtown Friday as part of the Women's Memorial March to draw attention to the issue of murdered and missing Indigenous women, girls and transgendered individuals. Herald photo by Ian Martens @IMartensHerald
Tim Kalinowski
Lethbridge Herald
tkalinowski@lethbridgeherald.com
The Sisters in Spirit Committee held its second annual Women's Memorial March in downtown Lethbridge on Friday to draw attention to the issue of murdered and missing Indigenous women, girls and transgendered individuals.
"We're continually trying to raise awareness because, unfortunately, what's happened in the structure of the colonial system certain people's lives seem to matter more than others," said march organizer Tseten Drawu. "When someone goes missing, there is a large public outcry. But for those folks who are marginalized, they are targeted because no one will care if they go missing or they are murdered. What we want to say is we are watching, and we do care. All women, all girls, all trans-folks, all two-spirited folks— their lives do matter, we do care, and we're here to memorialize them."
Drawu was joined by about 30 others in her efforts, including Mayor Chris Spearman and Deputy Mayor Belinda Crowson representing the City. Tanya Pace-Crosschild brought her two young granddaughters to city hall to take part in the march.
"I think it is so important for us to understand that violence against Indigenous women in particular is disproportionately higher than any other group in Canada," she said. "We deserve to raise our children, and that's why I brought my granddaughters here, Paisely and Cambry, to symbolize how important these kinds of things are for their safety and their future."
Heidi Heavy Shield, a clinical social worker and Indigenous programs co-ordinator with the Lethbridge Correctional Centre, brought some miniature, symbolic ribbon-dresses made by women inmates who could not attend the march in person. Heavy Shield said violence against Indigenous women is still sadly common, but she hoped efforts like the Women's Memorial March might help start conversations about the need for change.
"It's not just a social issue or social justice issue," she said. "It's a really important thing that's impacting a lot of lives. I am just glad we are paying more attention."
The Women's Memorial March originated in Vancouver's Downtown Eastside in response to the murder of a woman on Powell Street in 1992. Since then, the march has become an annual event on Valentine's Day across the country and internationally to protest the high numbers of missing and murdered women.
Follow @TimKalHerald on Twitter
Leave a Reply
You must be logged in to post a comment.