Interactive walking tour app gives historic view of city
By Al Beeber on June 30, 2021.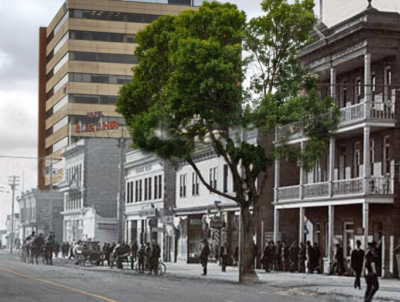 Submitted photo A composite image blends historical and current views of local sites as part of a new walking tour app.
LETHBRIDGE HERALDabeeber@lethbridgeherald.com
A new walking tour app will give Lethbridge residents a unique perspective on the city's history.
Created by Andrew Farris and Justin Lam in Vancouver, the Lethbridge app is one of 54 that have been launched across Canada.
The free interactive app features 22 stops in the city and includes 30 photos with historic and current images.
The app is available at both the Apple App Store and on Google play.
Farris said last week the project started out as a travel blog and while visiting Juno Beach in France, he thought that being able to a visual and written history would be "a great way to engage people."
Similar apps have been created for other communities in Alberta including Calgary, Okotoks, Strathmore, Gleichen, Vulcan and Fort Macleod, the home of the Northwest Mounted Police.
"We love taking walking tours. You can do this while socially-distanced and on your own time," said Farris, who is hoping to expand the scope of the Lethbridge app.
The local project started while the app creators were in Fort Macleod on what Ferris calls a "major project" involving 150 photos and numerous walking tours.
The business model of the app is based on partnering with tourism organizations to build the content, said Farris.
Research for each app is done by history graduates who do in-depth research on each community, he said from Vancouver.
"We want to be as comprehensive as possible."
The Lethbridge app runs down 5 St. S to 4 Avenue S and partway down 5 Avenue South.
Farris said the old and new photos give a "jarring juxtaposition" to walking tours as past meets the present, vividly showing how communities have evolved in the past century,
"Lethbridge is a big one for us; we want to get back," said Farris.
The Fort Macleod app has two walking tours, "First Bastion of the Foothills" and "Tales of Main Street."
Follow @albeebHerald on Twitter.