Horns men's basketball home date deserved
By Lethbridge Herald on February 14, 2020.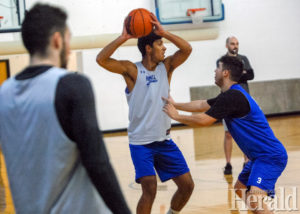 Herald photo by Dale Woodard - University of Lethbridge Pronghorn Keanu Funa looks to pass while Brett Warren guards him during a drill at practice Wednesday afternoon at the 1st Choice Savings Centre. The Horns play the Regina Cougars in a Canada West play-in game tonight at 8 p.m. at the 1st Choice Savings Centre.
Dale Woodard
Lethbridge Herald
sports@lethbridgeherald.com
Well earned, gentlemen.
The University of Lethbridge Pronghorns men's basketball team will host a Canada West play-in game tonight when they face the Regina Cougars at 8 p.m. at the 1st Choice Savings Centre.
Having ended the regular season on a six-game winning streak that brought the Horns to 10-10, this post-season date is deserved.
"Full credit to the boys to go 7-3 in the second semester to secure our spot in playoffs and at home is even better," said Pronghorns head coach James McKinnon. "It's going to be great to have the home crowd behind us against Regina. And full credit to the boys, especially the last three weeks going on that six-game winning streak."
For graduating players Keanu Funa and Kyle Peterson, that means one last home game tonight. "Anytime you get a home playoff game is exciting," said Funa. "To have family around for the support, you have a lot more comfort and reliability on that."
On Wednesday afternoon, the Horns were back at the 1st Choice Savings Centre continuing their week of preparation.
"Practice has been good," said Funa. "I feel like we've been ramping up for this the past few weeks and with that feelings really haven't changed much at practice, we're still going hard. So that's a good feeling to have."
The Cougars (10-10) just finished behind the Pronghorns in the RPI and went 6-4 during the second semester of the season.
"They're very guard heavy and they are going to play perimeter-centered offense," said McKinnon. "For us, it's going to be being able to guard on the perimeter. They shoot a lot of threes and make a lot of threes, but they are able to penetrate as well. For us, it's going to be how do we make sure they shoot at a low percentage. At the other end it's just making sure we get all of our shots."
The Pronghorns and Cougars faced each other only six weeks ago in Lethbridge with each team winning a game.
"I think we're familiar with their guys," said Pronghorn Chad Oviatt, who led the team with 16.9 points per game. "They can shoot if they catch fire, but if we can just keep them off the line and push them into the inside down to our bigger guys I think we'll be all right."
Regina product Carter Millar led the Cougars in scoring, averaging 19.3 points per game and combined for 52 points in the Cougars two games in Lethbridge, but he missed the final six regular season games due to injury.
Greishe Clerjuste was second on the Cougars in scoring with 12.7 points per game.
The Pronghorns boast six players who averaged double digits per game this season, but McKinnon stressed a defensive game that was key in their six-game winning clip down the stretch.
"In the last six games I think we've kept teams under 80 points for five of those games," he said. "So really, the consistency on defence has been a huge part of our success. Southern Alberta kids have a natural way to score, so for us to play defence is the key moving forward."
In addition to Oviatt, Colton Gibb (15.6 points per game), Jeff Rodehutskors (11.9), Scott Mazutinec (11.7), Kyle Peterson (11.7) and Funa (10.1) are the other double digit point-getters.
As the Pronghorns leading scorer, Oviatt wasn't giving too much thought to how the Cougars will play him tonight.
"To be honest, my mindset going into games is just do everything I can and work hard, push the ball and try to grab as many rebounds as I can. I try not to focus too much on what they are trying to do to stop me. I just go out and try to perform the same way that I try to do every night."
The winner of tonight's game will advance to one of four Canada West quarter-finals in either Edmonton or Calgary, which will also be a one-game affair.
McKinnon said his team has been adopting that best-of-one mindset.
"We had that mentality last week with Thompson Rivers, knowing that we had to win both games to make a home playoff. So we still have that mentality of one game at a time. Heading into this weekend it's that same mentality. We've only got 40 minutes, so we have to play the best that we can for that full 40."
The Pronghorns head coach anticipated an exciting 40 minutes at tip-off tonight.
"It's going to be a really exciting game, obviously having our home fans is a big thing," said McKinnon. "But they score a lot of points and they play at a very high pace as well, just as much as we love to run as well. If anything, I think it's going to be a high paced, high-scoring affair. There's going to be a lot of action, a lot of up and down and a lot of tired bodies after 40 minutes. That's the main thing, just come down enjoy the action-packed Friday night."
Follow @DWoodardHerald on Twitter
Leave a Reply
You must be logged in to post a comment.